Cultural Diary
Book launch
Vismitha Jeevitha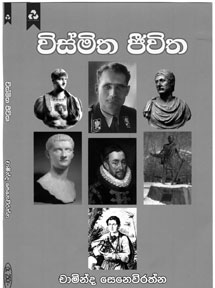 Chaminda Seneviratne's latest book "Vismitha Jeevitha" will be launched at Dayawansa Jayakody Bookshop, Ven. S. Mahinda Mawatha, Colombo 10 on February 01 at 10 a.m.
"Vismitha Jeevitha" is a Dayawansa Jayakody publication.
---
Colombo Colombo at Tower Hall
Indika Ferdinando's Colombo Colombo which received seven awards including Best Play of the National Theatre Festival 2010, will be staged at the Tower Hall Theatre, Maradana on January 31 at 3.30 p.m. and 6.45 p.m.
Ferdinando won Best Playwright and Best Director awards while Anasuya Subasinghe received the award for Best Performance - Female. The play also clinched Best Music Composition, Best Choreography and Best Stage Management awards.
Colombo Colombo was the representative of Sri Lanka at the South Asian Women's Theatre Festival 2010 and the Kathmandu International Theatre Festival 2010.
The tragi-comic musical play is fast-paced, theatrical, and bursting with energy, and constantly attempts to tap into the imagination of the audience to create an exciting theatre experience.
---
New World Concert
The Symphony Orchestra of Sri Lanka presents the New World Concert on February 12 at the Ladies' College Hall. The orchestra will be conducted by Gregory Rose the guest conductor, and the soloist will be flautist Celina Charlier.
The programme for the evening will include Edmundo Villani - Cortes' Concerto for Flute and Chamber Orchestra, Operatic Arias by Handel, Mozart, Gounod, Puccini and Dvorak's Symphony No.9 in E Minor B 178 "From the New World".
Brazilian born Celina Charlier the flautist started learning music at the age of 10 and has performed professionally since the age of 15 in chamber music recitals, opera, musical theatre, ballet, pops concerts, didactic recitals for children, incidental music for theatre, live music for silent movies and at many multimedia productions.
A recipient of numerous awards, scholarships and distinctions Celina Charlier is an Artist in Residence at St. Joseph's Church (the oldest church in New York) and a flute instructor at Baccalaureate School for Global Education and at Donghwa's Cultural Centre.
Her repertoire encompasses from Early Music to contemporary avant-garde electro-acoustics music, including Brazilian genres and over 60 world premieres.