Coconut saplings to be planted on grand scale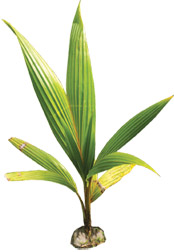 Four million coconut saplings will be planted throughout the country by the Coconut Development Ministry from February 1 with the assistance of Local Government authorities, Gramaseva Niladharis, Samurdi beneficiaries, Ranaviru families and members of Civil Defence Committees.
Initially, all Local Government authorities and Divisional Secretaries need to identify large, medium and small scale lands which could be used to plant coconut saplings.
Coconut Development and Janata Estate Development Board (CDJEDB) Minister Jagath Pushpakumara told the Sunday Observer that his Ministry will take measures to distribute the saplings after a careful study on uncultivated coconut lands and bare lands.
Encouraging people, especially the younger generation on the importance of replanting coconut trees would also help ease the coconut shortage.
The Government has already banned the felling of coconut trees and clearing of coconut lands for commercial purposes.
The Minister said many people in the country do not take any interest to plant coconut trees even in their own home gardens.
Over 10,000 acres of coconut lands in Kurunegala, Pannala and Negombo areas had been sold for commercial purposes during the past two years.
He said the Local Government authorities and Gramaseva Niladharis should keep a close tab on partitioned coconut lands and neglected coconut lands in their areas.
The Minister said that steps have already been taken to grant a fertiliser subsidy for large, medium and small scale growers.