Deyata Kirula draw over three million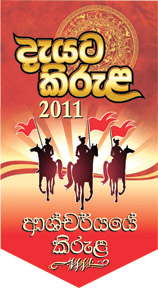 Over three million visitors will attend the Deyata Kirula exhibition which will be held from February 4 - 10 in Buttala.
The exhibition grounds will cover 160 acres of land.
Secretary of the Organising committee Udaya R. Gamage said that Deyata Kirula is not only an exhibition but will also focus on development for the entire region. He said that the investment on the exhibition was Rs. 40 billion and for the first time a single district got such a big budget allocation. "The main reason is that the Moneragala district had been neglected by successive governments since independence," he said.
In addition to the exhibition stalls put up by the government and the private sector 'one day' facilities would be available at the exhibition. 'We hope to issue thousands of identity cards, death and marriage certificates during the exhibition. With new technology we hope to issue a certificate in less than five minutes, he said.
This-one day facility was earlier available only in Colombo, Galle, Matara, Kalutara, Badulla and the Hambantota districts. Many cultural events, a cycling championship, Kabadi, Netball and Volleyball tournaments too have been organised.
Four million rupees were allocated to host these sports events. Special night buses will be deployed to transport people after the night musical shows.
President Mahinda Rajapaksa will be the Chief Guest at the opening ceremony. The exhibition was held at Pallekelle, Kandy last year.