---
---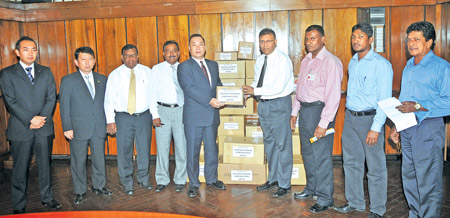 Maspro Dekoh Corporation (Lanka) Pvt Ltd. donated a consignment of essential commodities including infant milk foods to the Lake House Flood Relief Fund to be distributed among flood victims recently. Here the Managing Director, Dekoh Corporation, Makino hands over the consignment to ANCL General Manager Abhaya Amaradasa. The Corporation representatives Murate, Motoyama, Shelton Fernando, Sarath Kalubowila with ANCL Operations and Welfare Manager, Mahendra Rodrigo, Asst. Manager (Operations and Welfare) Saminda Wijetunga and R.A. Wimalasena look on. - Pic: Rukmal Gamage
---
Aussie health camp in A'pura
The Australia-Sri Lanka Medical Association has launched a program to provide healthcare facilities to the rural community in Sri Lanka. A team of medical specialists such as paediatricians, cardiologists physicians and eye surgeons headed by the Chairman of the Association Dr. Jenisha Johnway and Coordinator Dr. Tanuja Katugampola held a health camp in Anuradhapura at Dewanampiyatissapura Niraviya, recently. This team had visited Sri Lanka 20 times since the tsunami in 2004 to serve the rural community in various parts of the country.
Nearly 500 persons in Niraviya were examined spectacles were also presented to nearly 100 patients.North Central Chief Minister Berty Premalal Dissanayake and Deputy Minister of Youth Affairs and Skills Development Duminda Dissanayake lauded the Yeomen, service of the doctors too.
---
First tele-seminar media workshop
Sri Lanka's first 'Tele Seminar Media Workshop' would be held on February 1 at the National Online Distant Education Centre, Narahenpita under the patronage of Media and Information Minister Keheliya Rambukwella. Higher Education Minister S. B. Dissanayake will also be present.
There will be district level centres of the workshop in Kandy, Colombo, Gampaha, Badulla, Trincomalee, Moneragala, Kurunegala, Ratnapura, Anuradhapura, Matara, Galle, Kegalle, Polonnaruwa, Jaffna and Kalutara. Over 500 provincial media personnel have already been invited to the workshop.
---
Nature Trail 2011 from Feb 11
'Nature Trail 2011' is an excursion to the wonders of nature. Senkadagala Photo Circle invites interested individuals to spend a few days roaming through the cloud forests in Horton Plains, while escaping the hustle and bustle of city life. This provides a golden opportunity for those who are engaged in different occupations loaded with stresses and worries to taste the comfort of nature.
You are invited to join us on this excursion. Registration is strictly limited to 50 participants. The registration fee will include transportation to and from Horton Plains National Park, accommodation in dormitory and regular meals and refreshments from lunch Feb 11 to lunch February 13. The event is organised in collaboration with the Department of Wildlife Conservation of Sri Lanka and their contribution and commitment in giving this experience to the nature lovers in Sri Lanka is appreciated.
Please contact the coordinators, Vijitha (077-3641499) or Ranjith (071-4460907) of Senkadagala Photo Circle for more details.
---
EPDP Vadamarachchi organiser shot dead
The Eelam People's Democratic Party (EPDP) Vadamarachchi organiser Rasaratnam Satheesh was shot dead in Point Pedro yesterday.
The incident occurred while the victim was riding on his motorcycle at Anaivilunthan in Point Pedro yesterday morning.
Minister and EPDP leader Douglas Devananda along with other members of his party rushed to the scene where the body of the victim was lying on the middle of the road.
Point Pedro Police has launched an investigation into the incident.
Army has cordoned off the area and launched a search operation for the killers.
---
She needs funds for surgery
Mrs. Kumudini Herath (40) of Daraluwa, Hunuwila (NWP) is afflicted with chronic lymphoedena - severe swelling of legs. She is a mother of two children, whose husband is an ex-postal employee.
A specialist has recommended surgery esti mated at Rs.800,000 to relieve the patient from her misery. Due to indigent circumstances, her family finds it difficult to foot the medical bill and as such appeals for public contributions.
All contributions may be remitted to A/c No.034-2-001-3-0680373, People's Bank, Negombo.
---
CB Governor's mother passes away
Trixy Ann Cabraal, mother of CB Governor Ajith Nivard Cabraal passed away at the age of 90, after a brief illness.
Her remains lie at No. 106, "Bank House" Bauddhaloka Mawatha, Colombo 7 and the funeral will be held today, January 30 at 4.00 p.m. at Jawatte cemetery
---