All keen to contest under UPFA ticket - Prabha Ganeshan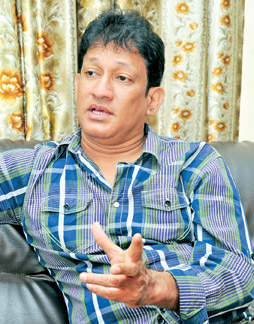 In an interview with the Sunday Observer , Colombo district MP Prabha Ganeshan, (ex-UNP MP who crossed over to the Government) says the UPFA is on a strong footing to capture power in all local bodies in the South and its minority allies will ensure power camps in the North and the East as well.
He said, "Everyone wants nominations from the UPFA. There are a massive number of young candidates wanting to represent the UPFA. They dominate our nominations list. This shows the confidence of the people."
"I am leading a campaign to harness Colombo minority votes for the Government. We have organised campaigns targeting the grass roots to make the minority masses aware of the ongoing development activities and how they will be benefited by them. The people have begun to notice now. They are changing."
Excerpts from the interview:
Q: In your opinion is the UNP in a position to retain the local government bodies controlled by them earlier? Do you perceive a change in power?
A: In Southern Sri Lanka the entire councils will be captured by the Government. There is no doubt at all. I went to Temple Trees yesterday and had an opportunity to browse the nominations list, a lot of youngsters have come forward to contest under the UPFA ticket, thousands and thousands. This shows the degree of confidence.
We have deployed powerful candidates to run for Mullaitivu district in the north. I am sure this particular block will also be taken over by the UPFA camp. The campaign there is led by Sri Ranga along with Minister Douglas Devananda.
Only some parts in the north, in Kilinochchi and Jaffna will go to the TNA. I don't think the UNP will be able to retain a single local government body if they don't sort out their internal strife soon.
Q: The TNA is planning to contest in Colombo at the forthcoming election. As a minority party representative what is your stand on this?
A: The Colombo Municipal Council election is not scheduled for March. It will be held in May or June. If the TNA wants to contest in Colombo there is no restriction. A lot of northern Tamils live here. But at the same time, there are a lot of Indian Tamils in Vavunia and Mullaitivu. We won't contest there as we don't want to spoil their campaigns. I always expect the TNA not to contest here. If they come here we will have to go to the northern areas. Then the votes will be split and no one will be able to win.
Q: Your brother's party and you have been dominating the vote base in Colombo?
A: Earlier the CWC had some votes here. But after our entry into politics in 1999, our party dominated Colombo. There is no vote base for CWC in Colombo now. There are 149,000 Tamil voters in Colombo district, out of which 98,000 are in the Colombo city itself.
Last time I got about 47,000 votes because only 39 percent Tamils cast their votes at the election. A lot of Jaffna Tamils did not go to polling booths because most of them had returned after the war. Some did not show much interest in the election.
Q: Some Tamil constituent parties and individuals of UPFA, like Digambaram's party, Sri Ranga and the Up Country People's Front led by Radhakrishnan have decided to contest certain areas as a separate entity?
A: Last evening (Jan 26) we had a very big discussion. Mr. Digambaram and Radhakrishnan are going to contest the Nuwara Eliya district together.
Sri Ranga will concentrate on Mullaitivu district. He will contest under his own symbol there.
I am interested in Colombo and Gampaha districts. I have fielded candidates in the Wattala Municipal Council, Wattala PS, Awissawella MC and PS.
In Kalutara district I have a candidate in Mathugama. I am contesting along with the Government. This is in accordance with the aspirations of all constituent parties and individuals to ensure our victory.
However, I am not satisfied with the way candidates were chosen to certain areas. I wanted to field candidates for Nuwara Eliya and Kalutara districts. But, in deed, I am aware of the practical problems. The Government is in a very strong footing now, therefore everyone wants to contest on the UPFA ticket.
Q: Are you having discussions to come to an understanding with your brother Mano Ganeshan?
A: I did not have any discussion with my brother but through a third party I spoke to him. I always advise him not to join forces with the UNP. I advise him to contest independently. Then he could decide later whether to join the Government or the UNP. If he feels he could work with this Government then he will always have the option open. If he joins the UNP to contest then it will be difficult to have a free hand.
Q: I heard that he is already having discussions with the UNP?
A: No. I am 100 percent sure he will not contest with the UNP. He wants to contest alone. He was badly disappointed by the UNP Leader at the last election.
Q: He wanted to contest from Colombo but instead he was sent to Kandy where he faired poorly?
A: At the general election our party general secretary and I contested from Colombo under UNF's elephant symbol. My brother contested in Kandy. He could not win due to a lot of violations in Nawalapitiya and so on. After that the UNP promised us a national slot. Later he walked back on his promise.
So on the day I took oaths (April 21) I gave a letter to the Secretary General of Parliament informing that I will be in Parliament as an independent. That letter was prepared by my leader - Mano Ganeshan.
Q: But he did not join you?
A: Before the election, we agreed that if the UNF government could not take over power, we will have to join whatever government that comes to power. This decision was reached in order to be in a position to serve our people. I stick to this decision. I don't think there is anything wrong in that.
This Government is very powerful. I think the UPFA will be in power for more than 15 years. Inside the UNP there are a lot of problems. So many people are involved in the power struggle. The UNP doesn't have a future in this country.
Before the war the situation was different for Tamil people. We had problems. In Colombo also there were a lot of security problems. At that time we did not join the Government.
After the war the situation became different. The people live 'smoothly'. Before the end of the war the Sinhalese regarded any Tamil walking on the street as a Tiger. He was suspected of carrying a bomb.
This was the reality. But now the Sinhalese and Tamils have begun to live in harmony. The feeling of brotherhood is being restored. We could do a lot of things in terms of development for our people now.
Q: Are you satisfied with the resettlement and development activities taking place in the North and East?
A: I have visited those areas. Resettlement is being completed on a highly expeditious note. Our country has made remarkable progress in comparison to other countries.
There are only 10,000 - 15,000 IDPs left to be resettled. Of course there are some shortcomings. When you resettle nearly 300,000 people, such things are to be expected.
I have been in touch with Deputy Minister V. Muralidharan on the issue.
They are doing their best.
Q: There is a new alliance of Tamil parties led by Minister Douglas Devananda. What are their objectives?
A: This is not a political alliance. Douglas Devananda's party, TNA and Shivajilingam Front, Democratic People's Front and few others are in this. Here we discuss about the political solution for Tamil people.
Different political parties with different political views have come together on a common goal.
Q: What are the plans of this new alliance?
A: We are discussing the current issues facing Tamil people. The use of Tamil language in administrative activities is one of them. We have met the President once before. The party representatives are making deliberations to put together a final set of recommendations to be submitted to the President.
Q: TNA, EPRLF and PLOTE have joined forces in preparation for the forthcoming mini election. They were parties that did not see eye to eye?
A: I think it is a good sign for Tamils. A lot of TNA parliamentarians are working with the Government now. TNA is attending the development committee meetings convened by the State. This is a very good development. What you have in place now is a very powerful government, everyone wants to join the government to get things done for their people.
I welcome their transformation. I invite the TNA to help the Government in development activities.
Q: Do you think the UNP will be able to retain their position in the mini poll or will we see a further erosion of their vote base?
A: There is an intense power struggle within the UNP. It is not just two power camps, there are more splits than the eye could see. I know this personally. The minorities are more aligned to the Ranil Wickremesinghe camp.
If Ranil Wickremesinghe is ousted by Sajith Premadasa I don't think they will get the minority support. This is my personal view.Ravi Karunanayake in Colombo is leading another power group. It will be a long time before they bounce back. I am leading a campaign to harness Colombo minority votes for the Government.
We have organised campaigns targeting the grass roots to make minorities aware of on going development activities and how they will be benefited by them. People have begun to notice now. They are changing.