Development projects:
Ex Tiger farms cultivated:
Army helps Govt save over Rs. 3 billion
The Sri Lanka Army has helped the Government to save over Rs. 3 billion by undertaking various development projects by contributing its expertise to develop the country in the post conflict era.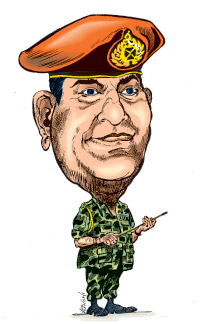 Army Commander Lt. Gen. Jagath Jayasuriya said the well-trained soldiers were engaged in different development activities and the main objective of the peacetime Army is to be a part of President Mahinda Rajapaksa's vision - to make Sri Lanka the Wonder of Asia. "Among the projects launched are national building projects such as construction of bridges, and pre-fabricated buildings, humanitarian de-mining and renovation of houses.
The Army has helped the Government save over one billion rupees in de-mining and Rs. 56 million by renovating houses" he said, adding that if these had been given to the private sector, the Government would have incurred massive expenditure.
He said the SLA does not want to maintain a force of over 200,000 in the barracks but need to ensure their contribution to develop the country.
According to the Army Chief, the SLA took over the major farms belonging to the LTTE in the North.
The former LTTE farms - Udayakattukulam, (fruits), Vellankulam (banana) and Kajuwatta in Nachchikuda- have now been developed with infrastructure and are run by soldiers.
"We are reaping the harvest in Udayakattukulam. It produces quality oranges and we have plans to export the vegetables and fruits grown in these farms," he said.
The Army is now exploring the possibility of export-oriented partnerships with the private sector to grow vegetables and fruits in the North.
When asked about handing over public and private properties, occupied by the Army in the North, Lt. Gen. Jayasuriya said that the High Security Zone demarcations in Jaffna have been finalised and will be gazetted soon.
He said the main problem in Jaffna was handing over public and private properties due to the scarcity of land in the peninsula. "But we are in the process of handing over the properties to people as we are constructing a permanent Army camp in Kopay," he said. The Army camp at the Gnanam Hotel in Jaffna has already been vacated and Hotel Subash will be handed over to its owners soon.