Navy's latest venture - whale watching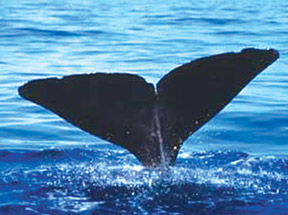 The Sri Lanka Navy will launch a whale watching project in the sea off Galle from today with the resources it used during the humanitarian operation, Navy Spokesman Captain Athula Senerath said.
The first voyage under this new venture will commence from the Mirissa sea area using the Fast Personnel Career A -543 which was used to transport civilians and Security Forces personnel during the humanitarian operation.
"We are launching a project similar to the Jet-Liner project to contribute to the economic development of the country", the Navy spokesman said. The troops career Jet-Liner has now become the most sought after cruise liner in the country after it was turned into a recreational cruise ship to host weddings, receptions, corporate events and parties.
According to Captain Senerath the whale watching project will be opened to locals and foreigners and will change the venue from time to time according to the prevailing sea conditions.
Since the Eastern seas have turned rough during the North Eastern monsoon the whale watching project will operate from Colombo to Kalpitiya from October to December .The venture will be shifted to Trincomalee during the South West monsoon since the western seas are rough during this period. "Whale watching will be shifted to Galle during the inter-monsoon period", Capt. Senerath said.
He said information on the project including the charges and bookings will be published in the www.navy.lk website along with Jet Liner nautical enterprise.