Young Flamingos' privacy preserved
The last time I had seen a really large flock of flamingoes was in 1975 at Malala, the largest fresh-water lagoon, just east of the Hambantota town. In June that year, after a lapse of several years, a flock of 2000 flamingoes made their appearance in the lower section of the lagoon, close to the sand dunes. They remained in the vicinity until the end of December.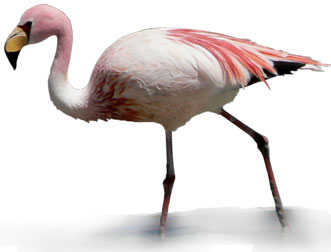 A point I could not help noticing as I stood gazing at the flock was that the majority of them were immature birds, with no pink about their bodies of scarlet markings on the wings. Individuals in full adult plumage represented about 5 percent.
The Common or Greater Flamingo Phoenicopterus roseus, is mainly a migrant species, known to visit us from north-west India in October and go back there the following April.
Yet, large flocks of them have been observed in the Hambantota area right through the year, including young birds. Could these young ones have been born in Sri Lanka and, if so, where?
Juveniles
The problem of juvenile flamingoes has been worrying bird-watchers here for several decades. Many of them believed that there existed a breeding place of the birds in some remote corner of the island.
Even Vincent Legge, that foremost ornithologist, was not completely immune to the belief.
For instance, in his great work "A history of the Birds of Ceylon", published in 1880, he says: "It is for the most part, as I could ascertain, a migratory species. But it is said by the Moor men on the South-East coast to breed between Yala and Batticaloa. That the flamingoes nest in Ceylon is, I think, probable.
I have been informed that young birds have been brought to Hambantota from the direction of Batticaloa, and their perculier mode of nesting was likewise described to me with tolerable correctness."
W.E. Wait, writing on the subject about 50 years later mentions "There are also traditions which, however, have never been verified that a breeding place lies in the extreme south of the Eastern Province."
Cicely Lushington, too, quotes Wait and says further that young birds are light-brown in colour and have no scarlet in the wings. W.W.A. Phillips endorses both these points of view. But Oliver L. Austin Jr., author of the "The Birds of the World" states that the flamingo nested "formerly" in Sri Lanka.
G.M. Henry in "A Guide to the Birds of Ceylon" (1955) gives his point of view as follows: "In Ceylon it is mainly winter visitor, but a good many loiter through the South-West monsoon, and it has often been suspected of breeding on remote lagoons in the Eastern Province, and while it may have done so, in time past, when the country was very much wilder, it seems improbable that it could nowadays find a suitable country for the purpose."
Douglas Raffel of "In Ruhunu Jungles" - fame, after closely studying a flock in a lagoon off Hambantota suggests, "I have seen flamingoes hive in large numbers during eleven months of the year. And I know others who saw them in December, too. So I am quite sure now they are residents."
Impossibility
A.E. Buttler of Hambantota, who counts half century of bird-watching on the South-East costal belt, thinks it improbable that breeding ever took place, except, perhaps a few centuries ago. From his experience he maintains this is an improbability for the following reasons - First, at the time of the year when breeding takes place in the Great Rann of Kutch (their breeding place closest to Sri Lanka) with the on-set of the South-West monsoon, the rainfall here is dropping off and with the dryness that follows the lagoons begin to dry up gradually. Secondly, when dry in many of these lagoons around Hambantota, salt is harvested and has been so from remote periods.
On the other hand, as long as the water is shallow there is continual procession of people netting fish and prawns in these stretches of water.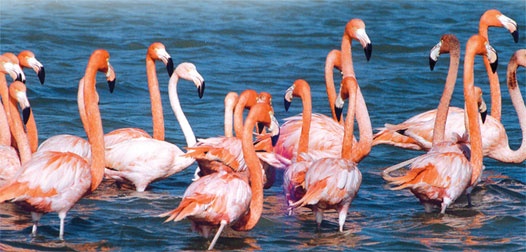 Hence, if there is any breeding in Sri Lanka (the possibilities are even remoter now) it can only be near Jaffna Peninsula in that uninhabited North-East corner.
Yet, a Mr. Bunker, writing from Jaffna in October 1965 contended, "I doubt if the area is large and unvisited enough to make this (breeding) possible.
We see flamingoes around the peninsula very seldom, at any time of the year. It seems unlikely that this should be so if large numbers are breeding here."
To quote Leslie Brown, an authority on the Flamingoes, "They would be likely to breed at a time when the water was slowly receding, leaving exposed large areas of sticky mud in which to build their nests. The breeding grounds were likely to be near the outlets of fresh water streams where conditions for the newly hatched young might not be too harsh."
On the strength of these authoritative evidence, one cannot but presume that these birds, do, in fact, breed in Sri Lanka and that, perhaps their extreme shyness at nesting, coupled with the possibility that no one has had the time or the facilities to search for them has preserved their privacy through the ages.