Tharunyata Hetak - Realising the aspirations of youth
Many youth have moved the world throughout the history. Countless young men and women have ventured in to treacherous journeys, invented life-altering products and set examples to the world as inventors, artists, writers, revolutionaries, athletes etc.
Strong role models among the youth are the backbone of any country. In making of such youth, many factors contribute in which guidance and an opportunity giver is crucial as ephebiphobia and adultism have been identified as factors existing across the globe preventing widespread recognition of youth. A youth should be brought up as a good leader who can always rise against the highest challenge facing it boldly.
Bearing this in mind Sri Lanka's most vibrant youth organization - The Tharunyata Hetak - plan strategies and implement them from the grass-roots level with a greater commitment to unite, develop and nurture the youth of Sri Lanka together with a motto 'Let us strive towards equality.'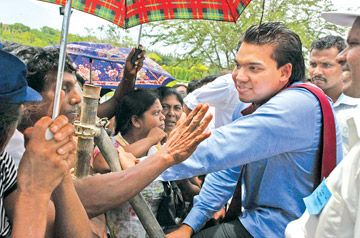 Rising popularity of a youthful leader who also celebrates his 25th birthday today.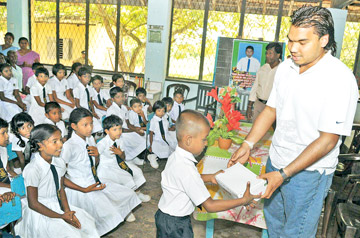 Presenting awards to children
With their charismatic leader Namal Rajapaksa 'Tharunyata Hetak' keeps the youth of today energized. Youth are the lifeblood of this country and their interests should be alive in their hearts at all times. Started originally as a sports organisation, Tharunyata Hetak expanded into community service programs.
The Tharunyata Hetak youth organization works towards creating bonds between the youth of Sri Lanka with mutual understanding, national patriotism and development highlighting significant qualities of goodwill, friendship and harmony. Sympathy surrounds Sri Lanka's poignant history that has taken a number of young lives hence we are dedicated to learn from our country's grave mistakes by ensuring that youth are not wasted for unintelligible acts of suffering and rebellion. We hope to instill faith and hope in the hearts and the minds of the youth of Sri Lanka, the future generation that will take our country forward, youth of the 'Tharunyata Hetak' states in their mission.
The organisation comprises several hardworking full-timers and over 500,000 members across the island from diverse social categories of the urban societies as well as from the rural sector. Every district has representatives and plenty of more volunteers working behind the scenes at events and charities to ensure success. Sri Lankan youth from abroad also come together with the vision and mission of this youth organization to spread the message of peace and assist their brothers and sisters sustain and come up in their lives. Their mission is to accomplish equality among Sri Lankan youth under a vision guided by many inspirational professionals and philosophers of the elder generation including President Mahinda Rajapaksa and first lady Shiranthi Rajapaksa.
Yet, their road is not a bed of roses. Obstacles and objections are plenty. Still they move on highlighting that one of the most important qualities of a leadership is the ability to handle pressure without actually losing your focus. Setting aside our differences, being friendly with our neighbours, sharing common goals and beliefs is what is vital, they say.
Hailing from a renowned political family, 'Tharunyata Hetak' leader Namal has always been at the forefront to help people and offer solutions to problems that are ever-present in this modern day. Namal is determined to put aside differences like religion, caste, race, social standing and financial status to strengthen peace and unity in Sri Lanka. The objective may meet the target through arts, sports, education or business. Still Tharunyata Hetak will accommodate full space to the need at any given time. The Chairman and Founder of Tharunyata Hetak, a better tomorrow for youth works to unite children of different backgrounds. While this organisation is based in the southern coastal town of Hambantota, Namal and the Tharunyata Hetak group travels to various parts of the country canvassing for it.
Today the leader of the Tharunyata Hetak steps in to his 25th year of his life and incidentally completes one year as one of the youngest MPs. Lakshman Namal Rajapaksa was born on the 10th of April 1986 at the Navaloka Hospital in Colombo to Shiranthi Rajapaksa and Mahinda Percy Rajapaksa.
Sports being in his blood Namal hopes to build bridges through sports. Rugby was his passion during school and his commitment and dedication for the game saw him being awarded national colours in the Under 16 and Under 19 group. He also captained the national youth team, with school colours for four years. He captained the Under 13, Under 15, Under 17 and Under 19 rugby teams. Presently finishing a law degree at a prestigious university in London, Namal also plays rugby for a club.
With exemplary leaders in the elder generation of his family and a passion to work for the society Namal, being the leader of a leading youth organization, will definitely bring success and glory to the youth of Sri Lanka. Having started community development work ever since he was 16 years, entering the 25th year of his life Namal will be at the forefront of achieving as much as he can for Sri Lankan youth.
- DY