ADB forecasts 8% GDP growth
Sri Lanka has made great progress compared to many South Asian countries which are lagging in economic growth, said Chief Economist of the Asian Development Bank (ADB), Dr. Narhari Rao at the launch of Asian Development Outlook (ADO) 2011 on Wednesday.
Rao said that Sri Lanka has already achieved much compared to many countries in the region and added that the country is poised for growth in the next two years.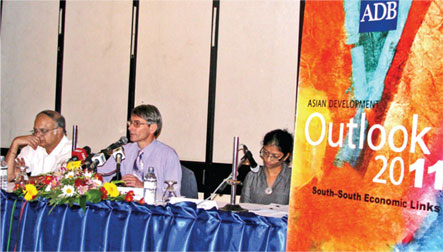 ADO, the annual flagship publication of ADB forecasts Sri Lanka's GDP growth rate to be around eight percent this year following a strong rebound last year which recorded a 7.6 percent growth rate.
"We are optimistic that Sri Lanka will achieve an economic growth rate of around eight percent in the next two years", Rao said.
The ADO stated that Sri Lanka could reach eight percent growth provided policy makers focus on fiscal consolidation, reforms to the two State sector energy enterprises, finance sector reforms and maintain a flexible exchange rate.
Sri Lanka's economic growth rate has been around six to seven percent since 2006 except for a slump in 2009 due to the intensity of the conflict and the global financial crisis.
According to ADO, Sri Lanka's economic growth rate is expected to surpass Pakistan, Nepal, Maldives and Bangladesh this year as well as next year.
The ADO stated that services and industry will lead growth in 2011. Agriculture is likely to be affected by heavy rains that lashed early this year.
Rise in global food and fuel prices triggered by uncertainty in the Middle East and the earthquake in Japan will stoke inflation in emerging economies. Sri Lanka's annual average inflation rose to six percent early this year from 5.9 percent end last year.
The inflation rate is expected to further rise this year due to the increase in world oil prices. The ADO noted that Sri Lanka's capital market remains under developed and that steps need to be taken to develop infrastructure for the market.
"Sri Lanka should create a market for corporate bonds for which it should have good rating agencies, auditors and high transparency", Rao said.
Economist ADB, Hasitha Wickremesinghe said that.
A good business environment is important to attract investors and promote businesses.
The World Bank's Doing Business ranks Sri Lanka at 102 out of 183 countries, stressing the need to eliminate red tape.
Asia's recovery is firm and would continue to expand over the next two years even though high inflation and the need to develop new resources present looming challenges to policy-marker.
Country Director ADB Richard Vokes said Asia is leading global recovery and it needs to be less reliant on industrialised countries and added that developing Asia should tackle inflation.
Developing Asia is home to two-thirds of the world's poor and it is they who are most vulnerable to price increases.
Policy-makers must consider preemptive action to curb inflation, the ADO stated.Asia's growth is driven by the two giants, China and India whose economies are expected to record a growth rate of 9.6 percent and 8.2 percent this year.
Vokes said developing Asia should build strong links with non traditional markets to maintain growth and make it inclusive. "Building South-South links is essential to enhance trade and investment in Asia", he said.
LF