Middle East crisis:
Tea exports slow down
Sri Lanka's tea exports to the Middle East are on a rocky road due to the turmoil in the region which is shrouded with political mayhem and economic instability.
The Middle East accounts for a major share of Sri Lankan tea exports and a crisis in the region could dwindle revenue to the industry.
Ceylon Tea is exported to approximately 137 countries of which Russia and the Middle East are major markets absorbing around 36 percent of the total exports amounting to nearly 10.5 million kilograms.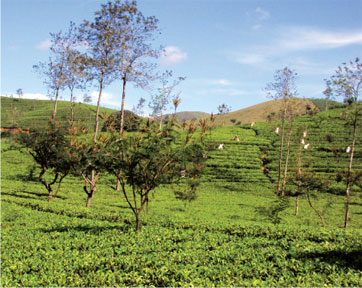 The tensions in Egypt is not a problem to tea exports as it is not a destination for Sri Lanka tea. The unrest in Libya poses a looming threat to tea exports to the country which is a 10 million kg market or 3.5 percent of total exports.
Director/CEO Lanka Commodity Brokers Ltd. (LCBL) Sarath Sirisena said if the problem in the Middle East is not resolved it will certainly hit Sri Lankan tea exports as shipments are affected and remittances are slow in coming.
Shippers said several containers dispatched to Tripoli are held back in the port and added that the situation in Syria is the same.
As a result of the tension, movement of cargo to the region is hampered.
"Around 80 percent of tea exports to Libya are value added and if the crisis spreads to the rest of the countries, the Gulf market could collapse" shippers said.
Analysts said these are unexpected external shocks and the industry needs to face them with counter strategies. A large quantity of Sri Lankan tea is exported in bulk form which accounts for around 50 percent of tea exports. Bulk tea fetches an average price of US$ 3.67 per kg while value added exports range higher at around US$ 5.37-7.53 per kg. Chairman HVA Group, Rohan Fernando said Sri Lanka should increase branded tea exports and be more competitive to face external shocks such as the Middle East crisis.
"Libya is a large market for Sri Lankan tea and the disruption to the movement of cargo will affect exports to the country", he said.
Sanctions on Iran by the West have tightened the movement of currency from Iran and as a result trade has been hampered. Tensions in Yemen has affected exports to a slight extent.
However, Sri Lanka's tea exports to CIS have helped the industry to keep abreast and promote tea to new markets. The Sri Lanka Tea Board (SLTB) has taken steps to enhance the share of value added tea exports during the next five years.
Director-Promotions, SLTB, Hasitha de Silva said that tea exporters need not panic as the tension in the Middle East would be temporary and exports will resume soon.
"There has been a slight dip in the auctions and there is no need to worry", he said. The demand for tea will not decline as it is a popular beverage and is consumed widely as a health drink.
It is revealed that global tea consumption has increased in recent years. Sri Lanka is the second largest tea exporter in the world with nearly 90 percent of its production being exported.The export market is currently valued at around US$ 1.5 billion accounting for around 20 percent of the world export share.
-LF