In brief
Competition brings positive results

These billboards at the Elephant Pass entry point to the Jaffna peninsula on the A-9 road show the competition between banks and finance companies in the post conflict North. Jaffna city and all major towns and suburbs of Jaffna district are returning to normalcy. Agriculture, the main livelihood of the majority has resumed and incomes have increased. Cultivation of red onions, potatoes, tobacco, chillies and other vegetables is profitable. The Central Bank, Rehabilitation Authority, and commercial banks issue agricultural loans at low interest rates. State and private banks have set up branches in all main towns in the Jaffna district. - GW
---
Top 'Good Year' sales agents on Malaysia tour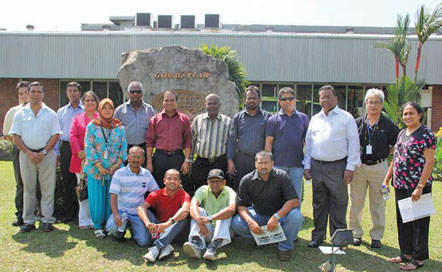 Associated Motorways (AMW) selected the best out of its Good Year tyre sales agents islandwide and took them on a three-day tour to Malaysia recently. Sixteen sales agents selected by a sales promotion program participated in this tour. AMW, the sole importer and distributor of Good Year tyres introduced the tyres to the Sri Lankan market in the nineties. The Good Year Duro Plus tyre is renowned as a tyre that can run for over 100,000 kilometres.
---
Launch of Melfort Green Teas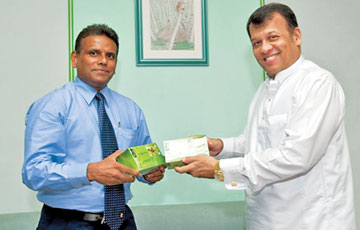 Deputy Managing Director/CEO Melfort Green Teas (Pvt) Ltd and consultant Pussellawa Plantations Ltd. Tiran Peiris presents a pack of green tea to Minister Mahinda Samarasinghe at the launch.
---
Revlon launches Top Speed Hair Color
Revlon Lanka launched Revlon Top Speed Hair Color, the advanced conditioning hair darkening colour recently.
Revlon Top Speed Hair Color's formula is designed for maximum ease, care and comfort.
It is free from Ammonia for greater gentleness and covers even the most stubborn grays with its SUC technology (Speed Up Colouring).
It also includes Threonine and Hydrolyzed Keratin to prevent hair damage and its special after-colour conditioner saturates hair giving vibrant and silky texture to it.
---
Ruwan appointed MD Hayleys Advantis
Hayleys PLC has appointed of Ruwan Waidyaratne Managing Director of Hayleys Advantis Ltd., encompassing group companies in transportation and cargo logistics from April 1.
He succeeds M O Raban, who retired post and will function as Executive Director of Hayleys Advantis. A former Chairman of the Sri Lanka Freight Forwarders' Association (SLFFA), Waidyaratne joined Hayleys Advantis in 1985 and was appointed Director to one of its subsidiaries in 1996.
He was Director of Hayleys Advantis since July 2002.
---
NSB celebrates 39th anniversary
Marking 39 years of financial strength and stability, the National Savings Bank (NSB) held its anniversary celebrations at its head office in Kollupitiya recently.
Priority was placed on religious activities to invoke blessings upon the staff and the population of the island with members of the Maha Sangha and clergy of other religions participating.
---
Singer Mega expands to Moratuwa
Singer Mega recently opened its latest showroom at the K Zone, Moratuwa's new shopping mall.
The chief guest, Singer Sri Lanka CEO Asoka Peiris opened the new store and responded to the heavy shopper turnout by noting that "Singer Mega will continue to give Sri Lankans access to the latest premium quality lifestyle products".
---
Epson winners tour Malaysia
Debug Computer Peripherals, authorised distributor for Epson in Sri Lanka, floated a 'Target based channel promotion' for their authorised channel partners in Colombo and the regions.
The promotion was effected for six months from September 2010 to February 2011.
Twenty five channel partners were selected and the targets were based on the Epson Inkjets/Multifunctions/Photo printers/Multimedia projectors and Genuine consumables.
---
Avurudu discounts for Sampath credit cardholders
Sampath credit cardholders will receive discounts on everything from clothing to groceries to branded electronic items while the discounts range from 10 percent to 25 percent. The mega promotion scheme is already proving to be greatly appreciated by all Sampath credit Cardholders ranging from Classic, Silver and Gold to Platinum, Signature and Infinite.
---
Siriliya loans for Galewela women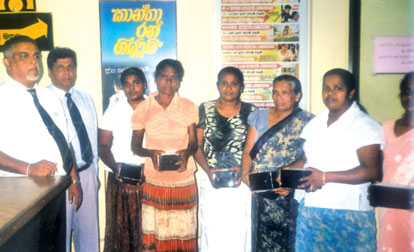 The Galewela branch of the Bank of Ceylon provided loans to six self-employed women having Kaantha Ran Ginum accounts under the Siriliya Saving loan scheme. Here are the loan recipients with BoC Galawela Branch officials.
- Pic:P.G. Gunatilleke, Galewela Group Corr