Personal accident cover to three-wheeler drivers
Janashakthi Full Option has re-launched a scheme for three-wheeler drivers to bring them peace of mind and security to their families.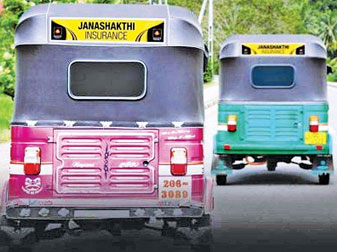 To qualify for the benefits the drivers have to display the Janashakthi branded sticker on the back of the three-wheeler. Stickers can be collected free of charge from any of the Janashakthi branches and propaganda vehicles across the island.
Janashakthi's General Manager Sales and Marketing Ravi Liyanage said, "There are over 500,000 three-wheeler drivers. Every one of them is trying to make a better living and give their families a better life.
In 2009 alone there were a total of 54,822 accidents reported to the police, out of which 6,246 were three-wheeler accidents.
Out of the total accidents 2,413 were fatal. The death of a bread winner means that an entire family has to bear the consequences. Bearing all this in mind, we have transformed the Janashakthi sticker into a symbol of security and peace of mind".
"Sporting it on their vehicles, they know that Janashakthi's care and assistance will always be there in the event of a fatal accidint.
We have even gone a step further and encompassed three-wheelers which are insured by competitors."