DIMO, Tata Motors celebrate 50-year partnership
Diesel & Motor Engineering PLC and Tata Motors India celebrated a successful partnership spanning 50 years recently.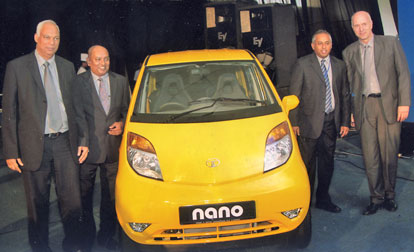 The pinnacle of the event was the launch of Tata Motors' brand new car - the Tata Nano - fresh off the factory line, the vehicle's debut export from India.
Tata Motors' Managing Director/Group CEO, Carl Peter Forster and Managing Director - India Operations P. M. Telang were present.
DIMO, which boasts 71 years of operations in Sri Lanka, entered into a partnership with Tata Motors in 1961, and has since grown into one of the conglomerate's leading partnerships.
Tata Motors is India's largest automobile company, with operations spanning the globe in the UK, South Korea, Thailand and Spain. Five other Tata vehicle models were also launched - the Tata low floor AC tarmac coach with auto transmission, 'Prima' prime mover, 'DIVO' luxury bus, 'Super Ace/DIMO Lokka' truck and the 'LPT 1618' with a container body.