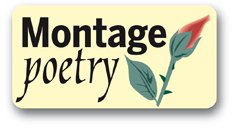 Better start
Hold my hand
I will show the place to start
Don't be apart from
Where you can't see the start
Cherish the world
Where worries could be past
Care for nature
Or the future of the world won't last
Be kind and nice to all you meet
And gain a loving heart
Try to face the reality
Of life been so harsh
Try to be smart and sharp
Then the world won't run too fast
Always remember this son
Whenever you need a better start
Kanchana Joseph
The poet has used a simple diction to drive home the message that one should love nature so that worries would wither away. Though it sounds like advice, the poem ends on a philosophical note.
---
To a Daughter -in-law
Two years ago
Tears rolled down
You became a widow
Having to care for two little
children
Compelled to leave me
To take refuge in your parents'
abode
I pity your situation
With a very responsible task
Ahead of you
Leaving you alone
To see the welfare of the two
little children
Money, time and health
Your needs of the hour
You have to remain unemployed
Daughter-in-law
Be courageous
Think of the world's first
woman Prime Minister
And our first woman President
Both were widows
Yet, they excelled in life
Never be disheartened
There's no doubt
Your dear parents and friends
Will be there with you
To guide and help you
In times of need
I hope and pray
Long life for your loving
parents
Who look after you
And the little ones
Remember
Life's journey is with ups and
downs
And never one way
And when one door closes,
another door opens
Aim high
With your strong will power
Face the future
With courage, without fear
Gunasekara Hiripitiya
The poem is a series of advice for a recently widowed daughter-in-law and it almost sounds like a narrative than a poem. It is a home truth that a passage broken into lines and publishing it would not make it a poem. The poem would have been more effective if the poet had used apt metaphors and similes to convey the message.
---
Wild romance
Take my heart
Make me yours
Love me day and night
In a wild wild romance ~
Bertholamuze Nisansala Dharmasena
The poem has been written in Haiku structure using short lines. The woman invites her lover for 'a wild romance'.
---
Our portion of nature
Nature,
Beautiful, fantastic and lovely
Gifted everything for needy
But.. not to satisfy our need,
Future,
Not clear, between line
use resources, keep in mind
not throwing or not wasting
Save for your descending
Use your food, keep for others
Use this wood, keep for others
Water , power and oil
Make use but not spoil
If things wasted never
You are the earth's son forever
When you were born
nothing in hand
When you were gone
many in hand
Your body , a food worm
Makes motherland warm
Odds and ends change
Make another and use...!
Herath Bandara
The poet has used short lines to tell about protecting nature and natural resources for posterity. Although the poem is a commendable effort, at times, it sounds like a mere narration than a poem.
---
The way back...
The way back
Every love story
Is never too small
Princes and princesses
Nor brave neither tall
Knighted by love
Reigning your throne
Replying my destiny
I've made a really close call
The moments are never
Lost, till my soul
Merges with the sunset
When'd glow no more gold
The whispers of fantasies
Upon my cheeks so warm
Keeps as my company
In the nights long and cold
Love my little Princess
Can never be foregone
Embrace me, my memories
I'll never be able to hold
Someone so closely
To the place it was born
Now it feels empty
With you, my heart strolls
Sankhapadma Weerasinghegunawardana
The poem has used short lines to tell about the love. The poet has expressed his idea of love and fidelity.
---
Devilish marriage partner
Though a young man desires marriage
He will find it a cause of life long grief
If his life partner turns out to be a devil
When she worries him with craving for
fashions
He has to earn extra money
To cater her extravagant expenses.
In case he fails to meet her demand
He has to suffer ridicule from her
In presence of his friends
Then he will realise his folly of matrimony
With an unwomanly person.
When the scolding of the cruel wife
increases
To the unbearable stage
The innocent husband will lose heart
And flee from the devilish marriage
partner
Then he will think of living away from
her
In order to avoid her pestering and
annoying him
But he hesitates to leave his sons and
daughters
Born to her in the midst of her
quarrel
ling and clashing
Oh! My sons and daughters!
If not for you,
I would have renounced my married life with
your cruel mother!
You are my solace!
I am determined to live for sake of you.
MYM Meeadh
The poem sounds a distressed husband who has been wedded to a nagging wife. The distraught husband now lives with his wife for the sake of children. It is a narrative poem and at times, the poet uses long lines to highlight the sorry plight of the husband.
---
The waiting ...
It came
As a shock
"Life would be topsy-turvy" thought I .......
The endless waiting
Sickness and forebodings
Suspense and longing
Dreaming and praying
It seemed eternity ...... The sleepless nights Turning from side to side The aches and pains The fatigue Seemed forever......
Came, then the preparations
A whirlwind
Was my life
A date was set
Things were packed
I was rushed to the crucial place........
Nine months of waiting
Was about to end
Lights, doctors and assistants
" Relax, just fifteen minutes" they said......
Hoping against hope
For me, it was never ending
But.......
All forgotten
Just a fading, distant memory
As " My World" was kept in my hands
A sweet bundle of pink ........
Wathsala Weeraratne...
The poet has skilfully portrayed the birth of a child from a mother's point of view. The birth of the child is the culmination of the long wait and the moment in which mother would forget all the pains and deprivations underwent during pregnancy. The poet has used simple but effective language and apt metaphors to describes the pain and deprivations that the mother would undergo during pregnancy and the sheer joy at the childbirth.
---
Let me...
"Let me be me ot what others want me to be" told me.
I suffer a lot within me hinking that "Me" will cease to be.
Who likes to be
person who s/he doesn't want to be?
Why try to prune me;
Into a shape you want me to be?
Do you prefer a "stunted me" to a
"grown up me"
Who will someday like a fruitful tree
Cover and grow up over thee?
Let me see
Don't blind me.
Let me speak
Don't throttle me.
Let me walk
Don't cripple me.
Let me breathe
Don't choke me.
This is what I want me to be.
Please, let me be.
Kasun Gajasingha
The narrator pleads that let him be himself. In a way, it is the speaking of one's soul and perhaps the innermost soul. The poet has used down to earth language to convey the message.