Move to clear heavy backlog:
New Commission to clear 3,000 bribery cases
The newly appointed members of the Commission to Investigate Allegations of Bribery and Corruption are in the process of clearing a staggering 3,000 bribery cases which had piled up during the 13 months of its inaction, Chairman Justice D. J. de S. Balapatabendi told the Sunday Observer.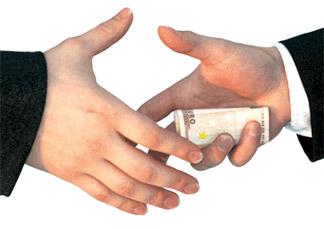 He said the Commission received 112 new cases, during the past two weeks after assuming duties.
"We discuss 50 - 75 cases during working hours and take home around 25 - 30 files daily. This is a lot of work".
He said their intention is to clear the heavy backlog of bribery and corruption cases that had accumulated during the one year when it was defunct.
President Mahinda Rajapaksa revived the Commission by appointing Chairman Balapatabendi, a retired Supreme Court judge and Commissioner Justice L. K. Wimalachandra and Jayantha Wickramaratne two weeks ago.
"When we took over the office there were over 1,600 files of new cases on the table in addition to over 1,700 pending cases where preliminary investigations had been completed."
He said the Commission is also in the process of bringing in amendments to the Bribery Act following consultations with the Presidential Secretariat to introduce tougher laws to penalise the offenders as they feel the existing laws are highly outdated. "We need to amend the Sections that spell out penalties. The existing penalties are not at all sufficient to fight the menace of bribery and corruption in the public sector.
The Legal Draftsman will be notified through the Presidential Secretariat shortly to introduce changes", the chairman said.
He said the Commission will not hesitate to take action regarding any person irrespective of his or her stature. However, he cited the need for additional staff including legal officers to perform more effectively to stamp out bribery and corruption from the society.