Sri Lanka u-19 coach Naveed Nawaz Schoolboy cricketer of the year 1993
Observer/Mobitel Schoolboy Cricketer show. The Sunday Observer Schoolboy Cricketer of the Year is a trusted and proven show as almost 90% of the winners of either the main award or sectional awards have gone to represent the country at the highest level. It is a big boon to any aspiring cricketer. These sentiments were expressed by former Sri Lanka Test cricketer Naveed Nawaz who won the award in 1993.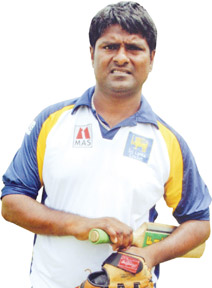 This show is the ultimate pinnacle for a schoolboy cricketer and a much look forward to event. There is a lot of excitement in the school cricket curriculum said Nawaz, the elegant left- hander from D.S.Senanayake College.
Nawaz showed early promise as an allrounder at 'DS' and was an automatic choice for his school team in all age groups. He became the Observer Schoolboy Cricketer of the year. He was rewarded for scoring over 1000 runs and taking 68 wickets in the 1992/93' school cricket season.
He was a member of the Sri Lanka Schools Team which toured England in 1992 under Suchitra Alexander which included Russel Arnold, Chaminda Vaas, Pulasthy Gunaratne and Jayantha Silva. The following year, 1993 he also toured Singapore and Malaysia with a Sri Lanka Under 19 team captained by Royalist Gamini Perera. The team included players of the calibre of Mahela Jayawardene, Chaminda Vaas, Russel Arnold, Avishka Gunawardene, Ravindra Pushpakumara, Mario Villavarayan, Saman Jayantha, Indika de Saram and Peter Hamer.
Although,a cricket tour to Singapore and Malaysia is not the ideal destination for a highly talented cricket team to perform, the talent was amply displayed when the team was pitted against expatriates and the Sri Lankan youngsters impressed everyone. Later many of these players namely Mahela Jayawardene, Chaminda Vaas, Russel Arnold, Avishka Gunawardene, Ravindra Pushpakumara, Saman Jayantha, Indika de Saram and Naveed Nawaz went on to represent the country either in ODIs or Tests. Nawaz made his ODI debut in 1997 and played in a solitary Test match against Bangladesh in 2002. He should be considered trifle unlucky not to play in many Test matches.
Naveed Nawaz is presently the Sri Lanka Under 19 coach. He has a level three Australian coaching certificate and currently he is in charge of the Under 19 team that will be taking part in the Junior World Cup to be staged next year in Australia. Caption: Naveed Nawaz the former D.S.Senanayake College cricketer and the present Under 19 cricket coach. He was the Schoollboy Cricketer of the Year 1993.