Polytunnels and Greenhouses for agricultural sector
The Ministry of Economic Development will introduce Modern technology to the agriculture sector. Polytunnels and Greenhouses will be introduced under the 'Yali Pibidemu' project and Gemidiriya Second Community Development and livelihood Improvement project (GSCDLIP). These farming practices will be funded by the World Bank.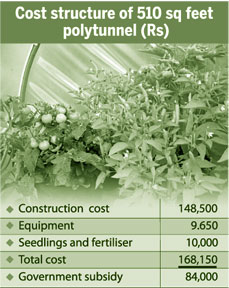 The project director of the GSCDLIP, S.K. Liyanage said that under the livelihood components of the two projects, a large number of agricultural sub projects has been started by beneficiaries. Gemidiriya operate in nine districts while "Yali Pibidemu" covers 12 districts in the North and the East and the border districts. This project focuses on improving the livelihoods of those affected.
The two rural development projects have combined livelihood development components with the Divineguma program, the concept envisaged by Economic Development Minister Basil Rajapaksa we encourage beneficiaries to start home gardens or commercial agriculture ventures. Gemidiriya has vast experience in rural livelihood development projects.
Liyanage said that introduction of modern technology to rural agriculture is a result of extensive discussions Minister Rajapaksa held with officials.
The Minister advised us to seek assistance from experts to address issues faced by farmers specifically in our projects. We requested the Faculty of Agriculture, University of Peradeniya to assist us. The introduction of poly tunnel and green-house farming is one such initiative, he said.
Issues faced by the farmer community is common marketing issues, high cost of production, seasonal cultivation and over supply of products, excessive use of pesticides and resulting health and environment issues are among them. Agriculture has become a less attractive venture for the younger generation.
The majority of farmers who engage in traditional agricultural practices are over 45 years.
Therefore, introducing technology to make agriculture an attractive venture for the younger generation is also the need of the hour, he said.
One farmer will be selected from each Gemidiriya village to set up a poly tunnel at the initial stage.
The overall target is to set up one polytunnel farm in each GN division. The total cost of a 510 sq feet green house is Rs. 168,000 and Gemidiriya will grant Rs. 84,000 while the remaining will be borne by the farmer. Credit facilities are provided by the Samurdhi Bank and the Rural Development Bank.
Polytunnel and Greenhouse farming is used to cultivate high value crops such as bell pepper, tomatoes, salad cucumber, strawberry as well as a variety of up country vegetables such as carrot and leeks.
Since the initial cost of this modern farming practice is high, the price of these products too are high and will cater to high-end markets.
Today, there is a limited local market but we expect that it will expand with the growth of the tourism industry.
There is export potential as well. Cut flowers and foliage too can be cultivated in greenhouses and it is another area that has a big export demand.