Development
Aim - to become regional hub for industry:
A new chapter opens in Lanka's aviation history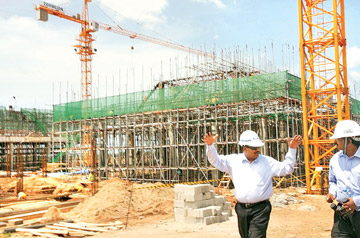 Air travel, which was once considered a luxury, has today been made available even to the middle class, with passengers being able to avail themselves of SriLankan Air Taxi services for less than Rs. 3,000.
The launch of Mihin Lanka, the budget airline, brought international air travel within the reach of the common man while the easy payment scheme offered to Government servants made it possible for them too to enjoy the luxury of experiencing an international ride on air and also see another country. It opened up a new segment of travel to the pilgrims with people increasingly visiting Dambadiva, Velakkani and Trirupathi.
The first aircraft landed at the Ratmalana airport in 1931 and Sri Lanka's first national airline was Air Ceylon. During the Second World War several domestic air strips were opened while the Colombo airport in Katunayake too was opened.
In later years, when the airline industry was making giant strides including the launch of scheduled domestic flights to Jaffna, the LTTE downed a Lion Air civilian aircraft and subsequently domestic flights were grounded.
Domestic air facilities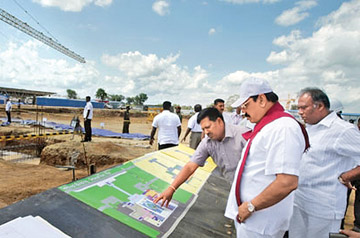 President Mahinda Rajapaksa visiting the construction site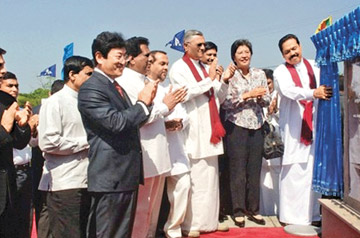 The unveiling of the plaque at Mattala with senor Chinese government officials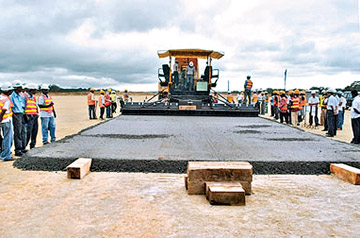 Ongoing construction work at Mattala
Domestic air facilities such as the Puttalam airstrip which was idling, was given over to Holcim to operate a cement factory.After the end of terrorism one of the first industries to recover was the tourism sector. With the Government's initiative of moving industries out of Colombo, both entrepreneurs and tourists wanted to travel from point to point quickly and the domestic airline sector was re-born with SriLankan Air Taxies, Heli Tours operated by the Sri Lanka Air Force and Deccan Aviation leading the way.
Minister of Aviation Priyankara Jayaratne said that they have already received many positive inquiries from local investors about launching more domestic flights to Jaffna and Trincomalee. "We are currently evaluating these proposals," he said.
The Minister said that the Mahinda Chinthana clearly spells out that Sri Lanka would be made a regional aviation hub. To meet this objective, domestic air travel is very important. "A passenger can even now get a domestic flight from Ratmalana, but he has to travel for two hours to reach Ratmalana which is not practical. This is why the Government wants to have a domestic passenger terminal within the Colombo airport" Minister Jayaratne said.With President Mahinda Rajapaksa's directive to bring in 2.5 million tourists to the country by 2016, a second international airport was needed. A second international airport was discussed for over two decades with Weerawila, Kalutara and several other venues being proposed.
However, they were confined to proposals and it was only three years ago that the decision was taken to build the second international airport in Mattala, Hambantota.
The airport in Mattala is around 22 km from the new Ruhunu Magampura Port.Chairman Airport and Aviation Services Ltd. Prasanna Wickramasuriya said that the Mattala airport would be ready by the end of next year, fulfilling a great void of the local aviation industry.
Sri Lanka's airline history would be rewritten by the end of next year when passengers from all over the world would be able to fly direct to Jaffna, Trincomalee and Hambantota without coming out of the Bandaranaike International Airport (BIA), Colombo.
Halfway stage
By next year, a passenger would be able to purchase a Toronto-Jaffna return ticket; an investor could book a Colombo-Hambantota return ticket; or a tourist would on-line print a Heathrow-Trincomalee return ticket, taking the country closer towards its goal of becoming the Wonder of Asia.
Wickramasuriya said that over 49 percent of the work is now completed and that they are confident of completing the project ahead of the schedule, to be opened in March. He said along with the construction, the marketing of the airport is now in progress with several airlines willing to touch down in Mattala.
The new international airport is expected to expand the local aviation industry while being a catalyst for the country's economic development, enabling international trade, tourism, vocational training and employment.The airport is estimated to cost US$210 million and by the end of construction will cover 2,000 hectares. It is being built to be compatible with the latest Airbus A380 aircraft and has been designed according to the recommendations of the International Civil Aviation Organization.
The Chinese government is providing financial assistance for the project. The airport is being constructed by the China Harbour Engineering Company. Upon completion, it will be operated by Airport and Aviation Services (Sri Lanka) Ltd.Wickramasuriya said the airport is being designed as an environmental-friendly 'green' airport. "After the airport is opened we are targeting one million passengers per year.
"He explained that the airport would focus on 60 percent of cargo and 40 percent of passengers.
While the Hambantota Port would help increase cargo operations the fruits and vegetables grown in the area would no longer have to be transported to Colombo to be re-exported from the airport as it could be done from Mattala. "This would be a major saving for the export sector."
Airport and Aviation Services Ltd has invested Rs. 80 million to resurrect the Pidurutalagala communications tower, increasing the overflying capacity of the country.
"With the rising of this tower, more airlines could patronise this tower, enabling additional aircraft to use Sri Lankan air space," said Wickramasuriya.
He said in a bid to make Mattala more viable, they have already accepted proposals to set up pilot training schools and aircraft maintenance and repair facilities. SriLankan Airlines Chairman Nishantha Wickramasinghe said they would be establishing an aircraft maintenance centre along with an international player.
The Hambantota Airport will also supply fuel to airlines.
New star class hotel
The foundation stone for the first star class hotel complex being constructed on the Mattala Airport premises, which is being built under the Mahinda Chinthana-Vision for the Future program, will be laid on September 19 at the auspicious time of 9.57 am with the participation of Speaker Chamal Rajapaksa, Minister of Civil Aviation Priyankara Jayaratne and Hambantota district MP Namal Rajapaksa.
This star class hotel complex, consisting of 200 rooms on 10 acres, is expected to be opened end November 2012. He also said that the corporate jet arrivals have increased by over 27 percent and that we are badly in need of a second city airport similar to Gatwick in London.
"This is a big revenue generating market and that is steps are being taken to upgrade Ratmalana to a city airport so that Jet arrivals could land there instead of Colombo."
He said that their aim as spelled by Mahinda Chintana is to make Sri Lanka an aviation hub and the opening of the second international airport in Mattala would take the country even closer towards this goal.