Over a million visitors expected at book fair
The Colombo International Book Fair 2011(CIBF) got under way yesterday for the 13th consecutive year at the BMICH. The event will be held till September 25 from 9 am to 9 pm each day.
Chairman of the Sri Lanka Book Publishers Association, Ariyadasa Veeraman said: "This time there are 425 stalls at the book fair including 28 by booksellers and publishers from Malaysia, India, United Kingdom, Singapore, United States of America, Saudi Arabia and Australia."
This year, 175 publishers, including 44 international publishers, have stalls. Veeraman described this as a great achievement for the Sri Lankan publishing industry.
"We expect more than one million visitors during these nine days. We hope the crowds will be even bigger than in the previous years. The CIBF is not focused on profit.
The income generated by the exhibition is used to fund the School Library Development Fund, Scholarship Fund, School Building Fund and other social development activities.
All members in the organising committee are voluntarily involved in this project," he said.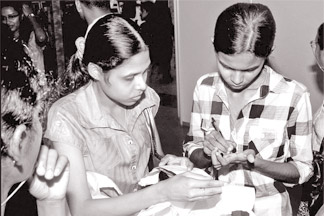 The Colombo International Book Fair has now become one of the biggest cultural events in the country with people especially children attending it from all over the island. It is also the biggest book fair in South Asia.
Treasurer of the Sri Lanka Book Publishers Association and owner of Sarasavi Book Shop, H.D. Premasiri said: "There are daily cultural events such as street dramas, musical evenings, book launches and book reading sessions; these will be a novel experience for the visitors.
There are many food and beverages stalls too for the benefit of book lovers.
We have launched more than 30 new books during this month, targeting the annual book fair, and every publisher has at least 10 new arrivals for this month especially targeting this event."
The Education Ministry has organised a special program for 129 selected schools around the country, for their students to attend for the book fair during the week.
The Sunday Observer also contacted publishers such as Vijitha Yapa, Vidarshana, Sanhinda, S. Godage, Wasana and Kurulu Poth about their new arrivals and the enthusiasm for this year's book fair. They revealed that there would be many new arrivals in all genres. Apart from the main objective, the CIBF is a 'Festival of Books' which has created a social space in which people can interact with one another and also create enthusiasm among youngsters for reading.