Help those who cannot see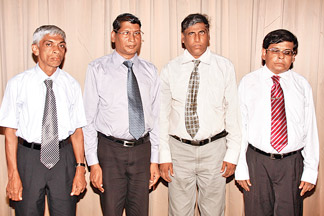 R.A. Sunil, Upali Chandrasiri, W.M.D. Ratnasekara, Alex Jay-awardana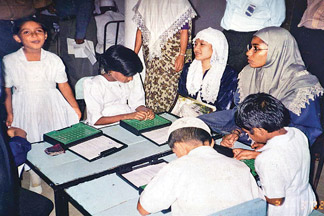 Students learning - Braille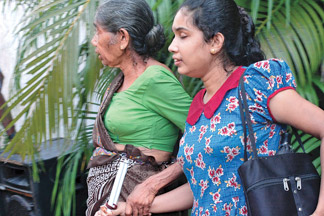 Mother taking daughter to work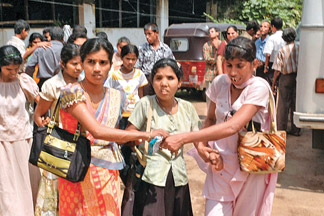 Crossing a road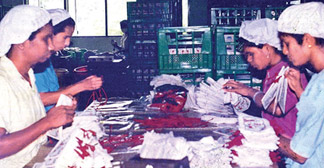 Blind workers at a garment factory
Pix. by Kavinda Perera
When Florence Nightingale was carrying a lamp in the dark looking for wounded soldiers in the Crimean war, she suddenly spotted a soldier with body injuries. The lady, who was also called the `Lady with the Lamp' noticed that the soldier had received eye injuries too. Both his eyes were badly injured. Although Florence took prompt action to restore his eye sight , she was unable to do so. Later, she had come to know that the soldier became totally blind.
When thinking of the life of this soldier who lost both eyes after the war, there are people in today's society who were born blind either by birth or after several years due to accidents or various other disabilities.
Unlike many other ailments, blindness has become a serious problem. Although blind people too have inborn talents, they have to seek the help of others to carry out some of their day to day activities.
The Sunday Observer last week met some visually handicapped persons living in Colombo, Ratnapura, Wanduramba in Galle, Anuradhapura, Seeduwa in Ja-Ela , Matugama, Kurunegala and several other places in the country. They got together in Colombo and conducted a conference to tell the authorities about their grievances and also hardships faced by the visually handicapped community in the country.
Senior President, Sri Lanka National Federation of the Visually Handicapped (SLNFVH), W.M.D. Ratnasekara said according to Government statistics over 60,000 Sri Lankans are visually impaired and out of them only a handful of persons are receiving assistance from the Social Service Department.
He therefore requested the Government to conduct a fresh countrywide visually handicapped persons survey, so that authorities could get the correct figure of the blind community.
Fifty-four year old Ratnasekara is a resident of Matugama. He was not blind by birth. According to him he was educated at C.W.W. Kannangara Vidyalaya, Matugama. He became blind at the age of 15 and thereafter he had received his education at Ratmalana Blind School. He is a BA and MA degree holder and graduated from Peradeniya University.
Ratnasekara said there were around 300 visually handicapped graduates in the country and the Government should seek their assistance to start welfare programs for the benefit of all blind persons in the country.
Ratnasekara further said that blind people have inborn talents and they should not be isolated. The authorities should get their maximum support to start development programms.
He said there are nearly 13 schools for visually handicapped persons and authorities should visit these schools regularly and look into the needs of school children.
He also said there is a severe teacher shortage at blind schools in the rural sector and requested the Government to recruit teachers.
He also pledged the Government to increase the intake to state owned Vidyapeeta and train more teachers.
Fifty two -year old SLNFVH, President Upali Chandrasiri said he was blind at birth. He said his blindness did not trouble him to continue with his educational activities.
A degree holder on fine arts, Chandrasiri requested authorities to improve the technical knowledge and the knowledge of Information Technology of blind children in the country.
He said there is a shortage of trained teachers to teach students at almost all blind schools in the country and the Education Department should take immediate steps to appoint new teachers.
A resident of Seeduwa in Ja-Ela, Kamal Sri Nanayakkara said he was blind by birth, but it did not affect his education. Kamal is a BA degree holder. He said he was working in the public sector.
He requested authorities to look into the living condition of many poor visually handicapped persons, especially children who do not attend schools due to poverty.
He said some young blind children are employed while not attending schools.
Sixty-year old, R.A. Sunil of Kurunegala said he was blind at birth. He said there is a shortage of Braille boards for school children and requested educational authorities to provide them as early as possible.
A 48-year old visually handicapped P.A. Piyasena said he was blind at birth and also was married to a blind lady.
His only daughter is not blind and is studying in a school at Kuruwita.
He said the authorities attitude over their living condition was not adequate. According to Piyasena an opportunity must be given to at least one blind person to represent the Parliament of Sri Lanka, so that he could forward many proposals for the benefit of blind community at the country's highest legislature.
Mrs. Sheela Peris of Narammala said she became totally blind following an accident , but leading a very happy life with her husband who is a nurse in a private hospital . They have two daughters and one is employed in a garment factory.
Sheela wanted the authorities to grant a small pension for blind people who cannot do any job.
Forty eight year old Nimal Siri said he was blind at birth and working in a bag manufacturing company at Ratmalana.
He proposed the Government to provide at least five percent jobs to the blind people. He said although there is a rule to provide jobs in the private and public sector for visually handicapped persons nobody will follow this rule.
Nuwan Kodituwakku who is blind at birth said the Government should appoint a Minister in the Parliament to look into the welfare of blind people in the country .
Somasiri Guruge of Kuruwita thanked the Sri Lanka National Federation of the Visually Handicapped for their co-operation extended towards the welfare of blind community in the country and said that Government too should increase their assistance for blind people.
He proposed the authorities to give at least a Rs. 5,000 payment every month for elderly and unemployed blind people .
He said this could be easily done through Divisional Secretaries in their respective areas. Meanwhile, former SLEAS Executive and a consultant in the Social Service Ministry DLR Subasinghe said the Government is helping not only the blind people in the country, but also others who have many other disabilities .
He said his Department spends a large sum of money for the welfare of disabled people in the country.