SLTB to switch to 'Miracle'?
The Sri Lanka Transport Board (SLTB) is ready to switch to 'Miracle', as alternative fuel introduced by a Sri Lankan company, Nmiracle Power (Pvt.) Ltd. Miracle is a fuel produced by mixing diesel and water, using hydro thermal technology. Deputy Minister of Transport, Rohana Dissanayake said that SLTB will test the viability of 'Miracle' using this fuel in selected buses in several depots and will switch to the new fuel if SLTB engineers certify it. Miracle has been tested by the company, locally and internationally and is being produced commercially.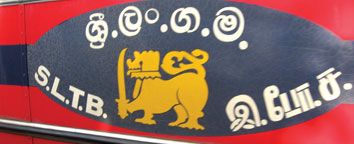 However, as a State institution we have to follow certain procedures, especially when introducing new technology, we have to ensure the safety and long-term viability by conducting tests by our experts, the Deputy Minister said.
Chairman of NMiracle, Nalaka Gajadeera said Miracle is a revolutionary product and is the most viable alternative energy source invented in the world.
There is no need for trial and error, as we have tested and proved the technical and commercial viability of the product. Miracle can be used in any diesel vehicle without any modification.
It will be the future of the oil and gas industry in the world, he said.
Miracle is 20 percent cheaper and efficient compared to diesel. It is a greener product and its carbon emission is 75 percent lower than diesel. Miracle has been recognised by the Multilateral Carbon Credit Fund.
By using hydro thermal technology, we add 60 percent value on diesel mixed with water. In the combustion chamber of the vehicle, hydrogen derived from water molecules is burnt and the oxygen emitted is used to burn hydro carbon.
As a result efficiency improves and carbon emission is reduced, Gajadeera said. Miracle is produced in Kaduwela with a capacity of 6,000 tonnes a day.
NMiracle is an export-oriented company and 80 percent of the product is exported to the Maldives, Cambodia, Vietnam, Germany, Romania and Italy. Gajadeera said that new production facilities will be set up in Germany and Cambodia to cater to the increasing demand.
NMiracle decided to supply fuel to SLTB considering the great service it has been rendering for decades. SLTB is not profit oriented and is the only mode of transport that opperates from dawn and at mid night.
Miracle will help SLTB to reduce its fuel costs by 20 percent and improve running efficiency, Gajadeera said.