AkzoNobel launches website, facebook
AkzoNobel Paints Lanka (Pvt) Ltd makers of Dulux paints launched a website (www.dulux.lk) and Facebook page (www.facebook.com/dulux.lk) by using the Augmented Reality (AR) technology last week in Colombo.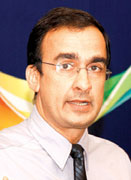 It is a comprehensive colour guide and the new website is designed to inspire customers by allowing them to use the paint calculator, which calculates the number of litres required for a specific room.
AR technology is a type of virtual reality that aims to duplicate the world's environment on a computer. An augmented reality system generates a composite view for the user, that is the combination of the real scene viewed by the user and a virtual scene generated by the computer that augments the scene with additional information.
"Dulux has identified the need for an e-commerce platform which will be launched as a second phase, where customers can purchase paint and other decorative products online within the months to come and they are going to launch the first e-commerce paints site in Sri Lanka. As a result of this move sites such as ebay, the world's most popular international person to person auction site will become the 10th most visited site among Sri Lankans," said General Manager, Akzo Nobel Paints Lanka (Pvt) Ltd, Graham Marshell.
A recent study shows that the online shopping audience in the country has increased significantly. With Sri Lankans becoming more online savvy and Sri Lanka has become the 76th country in the world to have over one million facebook users, according to www.socialbakers.com.
The Dulux facebook group will create an interactive get away among colour lovers who seek inspiration, and the page will feature a diverse range of subjects for colour enthusiasts including art, décor, architecture and even cuisine.