Those who are keen to learn will achieve excellence - Tom Moody
Successful leaders will execute excellence and will always remain on top, said former Australian cricketer and coach of the Sri Lankan national team, Tom Moody at a seminar on 'Building a Champion Team' organised by the Sri Lanka Institute of Marketing (SLIM).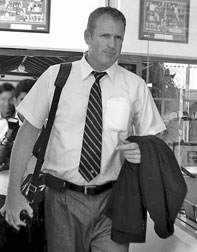 He said that Mahela Jayawardana and Kumar Sangakkara display good leadership qualities which should be emulated by the team to achieve excellence.
"The passion to learn and excel in the game is what differentiates Sri Lankans from the rest. Those who are keen to learn will reach excellence", Moody said. "Australians learnt a lot from Steve Waugh who steered the team to victory at the 1999 World Cup. He was a great cricketer and a leader who inspired the team", he said.
An all-rounder and currently a member of the ICC committee Moody has received many accolades and is admired by the cricketing world.
Moody has groomed many players and has been the driving force for the success of many teams. He has coached Sri Lanka, England and western Australia.
He said there are no shortcuts to success and those who compromise on standards will never succeed. One needs to consistently maintain high standards.
"Team work entails collective solutions which are vital to address problems. A good leader is more a listener than a talker", Moody said.
He said management and leadership should not be confused. Managers create the foundation while leaders create change.
"Disciplined leaders inspire discipline in others. One who expects others to be disciplined while he is not is a hypocrite", Moody said.