Abans introduces 'Easy Cook' for fat free cooking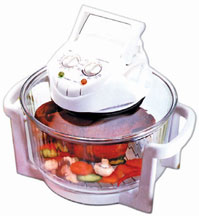 The Easy Cook convection oven cooks healthy fat-free and cholesterol-free complete meals speedily while saving electricity and time. Oven quality cooking combined with speed, Easy Cook is a boon for different cooking uses.
A visitor from England, Dr. Sam L.de Zoysa said that every home should have an Easy Cook. He said that oil in the food is harmful to health and is the root cause of many illnesses. "With Easy Cook you can cook your favourite recipes," he said.
This oven which fries without oil, steams, barbecues, roasts meat/chicken/fish, grills, and bakes bread/cakes/biscuits/pastries and scones which rise up to 40 percent higher in a shorter time.
Culinary experts predict that it will be the cooking method of the 21st century. Easy Cook has a powerful motor that circulates hot air around the food which sits raised on a rack. The result being the food gets cooked quickly and evenly on all sides, remains juicy and does not burn but browns beautifully all over.
The oven comes with a special fluted break-resistant bowl, low rack/cake cooler, dual height rack, lid stand, special purpose thongs and an instruction booklet with 52 recipes. It is available on interest free easy payment terms from all Abans Showrooms islandwide.
Abans conducted a cookery demonstration using the Easy Cook convection oven, at their Kollupitiya Elite Showroom recently.