'Seylan Smart Lease' gives leasing a new dimension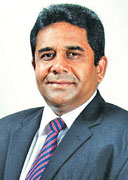 Seylan Bank expanded its portfolio of products recently with the introduction of 'Seylan Smart Lease' for the benefit of thousands of existing and potential customers.
'Seylan Smart Lease' is a smart product with the benefit of a flexible option of paying rentals. It gives the option of paying an amount, more than the standard rental during 'good' months when one enjoys a higher income (bonuses, seasonal business and income).
In effect with the increase of payment in the higher income months, the remainder of the balance rentals comes down accordingly, for the rest of the repayment period.
This effectively means that one has to pay a lesser rental for the remaining period of the lease within the relevant year.
'Seylan Smart Lease' targets individuals such as professionals and executives, SMEs such as proprietors, partnerships, corporates and others who wish to avail themselves of this form of leasing. Seylan Bank will launch an all-new "Instant Lease" campaign at 35 locations across the country at some of its key branches.
This will be a unique opportunity where customers can walk-in to these selected Seylan Bank branches on pre-determined dates with the relevant documentation and get instant approval provided the stipulated requirements are in order.