Emirates Academy of Hospitality Management:
Trains JKH Leisure Group employees
John Keells Holdings PLC, has partnered with Emirates Academy of Hospitality Management, Dubai, to mentor staff within the Group's leisure sector under a Rs 40 m training initiative.
Over 500 leisure sector employees have so far undergone training and exposure on practical and theoretical aspects of hospitality and service excellence as part of this scheme.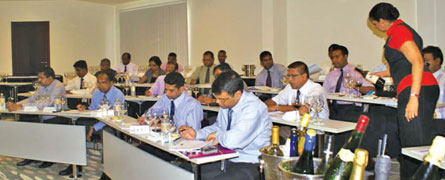 The Dubai-based five to seven day training programs are tailor-made for each sector, and also encompasses hands-on training for employees in top notch hotel properties in Dubai. According to Senior Vice President and Head of HR Leisure Sector, Roshan Gurusinghe, this timely and ambitious training drive is part of the Leisure Group's strategy of being on par with the constantly evolving global hospitality industry, where parameters and benchmark of service and product standards are on a continuous rise. The Group's aim is to have a trained team of professionals geared to take on the opportunities and challenges that are opening in the hospitality landscape, especially, given the rapid expansion envisaged within the JKH Leisure Sector," he said.
The Emirates Academy of Hospitality Management is part of the Jumeirah Group, the hotel Group that backs the most luxurious hotel in the world, Burj Al Arab, as well as a number of other renowned hotel properties in Dubai, London and New York.
"The success of the hospitality industry lies solely in the levels of products and services espoused. This comes through constant exposure and training," Gurusinghe said, reiterating that this was the main reason for this initiative. He said that this partnership and international training inculcated through the Academy will go a long way in forming an integral truss to the Leisure Sector's ambition of being `The Hospitality Trendsetter'. Offering a gamut of learning experiences, the training programs cover - Food and beverage, culinary (targeting chefs), housekeeping, front office, engineering, human resources as well as more strategic and market oriented training for the Group's destination management teams, sales and marketing groups and general managers.
"We are keen to have and grow a talent pool- be it the top performers, middle management or general managers.
Our aim is to cover all segments through a consistent and ongoing training process," Gurusinghe said. Towards this end a further Rs. 50 m will be channelled for training and development by the end of this year. Gurusinghe said that the Leisure Group has striven to ensure that staff is developed in a knowledge-driven culture, which will be further backed by investment in product and software. A dynamic combination, which he believes, will make the Leisure Group's ambition, of being a preferred Brand on par with other world class brands a reality.
"We remain conscious of the fact that we are looking at a global traveller who is exposed to world-class service standards.
We strongly believe in the ethos of service beyond expectations. The service excellence we envisage and strive towards can only be obtained with continuous and consistent training of this nature," he said.
Future initiatives include specific job oriented personal development programs for key positions as well as supervisors in the Group's hospitality sector.
The Emirates Academy of Hospitality and Management, is an international training entity, acknowledged for honing skills of employees in some of the biggest hospitality brands, including Hyatt Hotels and Resorts and Millennium and Copthorne Middle East Hotels.
Established as an institution of higher education, offering degree-level courses, it is the first major academy focusing on tourism and hospitality education at university level in the Middle East.