The theme is home
Languid afternoon on a tropic sea Within view of the palm fringed coast Dusky half clad men seeking nothing Ah, drift me from here to that country!
Thus wrote J Vijayatunga in London when he thought of his home in the south of the island, Ceylon then, Sri Lanka now.
Vijayatunga spent most of his life abroad, first as a teacher in Tagore School in Bengal and then as an examiner in Sinhala language for Calcutta University. After this, he was a teacher in New York. Finally, he worked as a journalist in London where he settled down to live.
His yearning to be in the south of his island country would have been so much for him to pen such lines as the above. This same yearning would have spurted him to write his book Grass For My feet, published in London in 1935. Being away for so long he would have often thought of his life back home and how different it was to the life he led at the time of writing this book. It was a nostalgic evocation of his childhood especially when he would have raced alongside his playmates with his bare feet touching the cool tropical grass.
This book was written as a series of vignettes of village life in Sri Lanka. They had all the charm, simplicity and warmth and the directness of a classic and Vijayatunga living in London made his village come powerfully alive. He wrote each story in such a way that the reader felt himself living among the writer's richly human community who were endearing and a trifle eccentric too.
In the same way, the renowned Sri Lankan surgeon, Dr R L Spittel, time and time again echoed his love for our beautiful island in his many books that he wrote. This trait is easily seen in the poem, Hail Lanka, his book of poetry titled, Leaves Of The Jungle. Here is one verse of it:
When homeward I keel from travels afar, And your mountains arise like wraiths from the sea,
By rose of the dawn or beam of the star: Oh, Island mine, you are heaven to me.
This also reminds me of another poem, written by one of my friends about the Sri Lankan jungles when living abroad: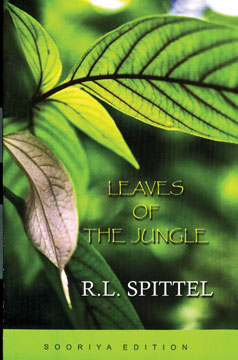 Another time another place a ray of sunlight aureates an orchid Lifting her head proudly Withstanding the thick undergrowth and our admiration
I am filled with such longing o trek the hoary plain Where leopard and bear spoor When will I see it again?
In the late 19th century a little boy happened to be in a jungle clearing watching an autopsy performed by his surgeon father. Suddenly, the nearby undergrowth swayed and a Veddah emerged. The eyes of the boy and the Veddah interlocked and both held their gaze briefly before the latter plunged once more into the jungle and disappeared.
This was the beginning of R L Spittel's life-long friendship and service to this ancient race of the island. It was also the beginning of his relationship with the island's flora, fauna and environment and his great passion for the island's jungles. All this grew parallel with his studies of medicine as he rose to be a well known surgeon.
Switching , to a totally different country, the book Brideshead Revisited (1945) by Evelyn Waugh, is a story where the protagonist and narrator Charles Ryder, at Oxford, forms a friendship with Sebastian Flyte, the younger son of an aristocrat, Lord Marchmain. When Sebastian takes Charles to visit his palatial home, Brideshead, in Wiltshire, England. Charles is introduced to and imbibes the luxury of nobility living then.
Afterwards, Charles visits Brideshead often and becomes a friend of the family. Charles's aesthetic talents were heightened with all the art and architectural work he came across with his visits to Brideshead.
In this book amidst its themes, nostalgia is displayed for the age of English nobility. It describes the gracious living in those houses prior to the 2nd World War.
As the story continues, Sebastian drifts away as does Charles from the Marchmains. But, with the war, Charles becomes an army officer and being an architectural artist, it so happens that he is billeted to Brideshead which was taken over by the British military. It is like coming home to Charles. Parts of the story are unraveled as Charles reminisces from Brideshead.
Robert Browning, the well known Victorian poet and dramatist married Elizabeth Barrett of Wimpole Street, in London(1846). She was a well known poetess herself. The marriage was first kept secret as Elizabeth's domineering father disapproved of it. The couple left for Florence, Italy and they lived there happily till Elizabeth's death.
Robert Browning, the well known Victorian poet and dramatist married Elizabeth Barrett of Wimpole Street, in London(1846). She was a well known poetess herself. The marriage was first kept secret as Elizabeth's domineering father disapproved of it. The couple left for Florence, Italy and they lived there happily till Elizabeth's death.
Living thus, Robert Browning's longing for his home and country made him write the poem, Oh To Be in England and some of the lines read:
O to be in England
ow that April 's there,
nd whoever wakes in England
ees, some morning, unaware,
hat the lowest boughs and the brushwood sheaf
ound the elm-tree bole are in tiny leaf,
While the chaffinch sings on the orchard bough
In England—now!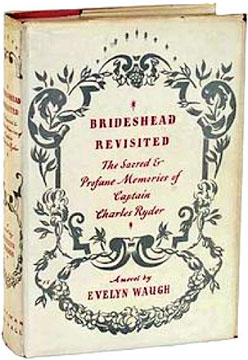 The Brontes were the world's famous literary family. Their home in Haworth, Yorkshire, England, was the Haworth Parsonage which is now a museum for the Brontes. The Parsonage was their home from 1820 to 1861. The children, Charlotte eldest of the famous novelists and her two sisters and brother grew and up and studied amidst the dramatic landscape of the Yorkshire moors. The environment coloured and enhancend their powerful imagination and nourished their creativity.
Even as children they wrote elaborately and extensively of imaginary countries and the happenings therein. In the early 19th century the class system was rigid. The education of the Brontes, in the time prior to 1870 Elementary Education Act, was higher as a large proportion of the population could not even read. This inevitably placed them in a higher social level than most people in Haworth.
Home was the environment they knew best and they enjoyed living at home. In fact, in 1835 when the second sister, Emily, enrolled at Mrs Wooler's school at Roe Head where her sister Charlotte was teaching, she soon returned home when she became profoundly homesick and ill. The well known books by the three sisters, Jane Eyre, Wuthering Heights and the Tenant of Wildfell Hall were accurate representation of their provincial life.
Some early biographers and critics wrote that the Brontes based their fiction exclusively on real life places, people and events, perhaps unwilling to believe that the daughters of a clergyman could produce what were often perceived as shocking, amoral books. This, of course, would be to deny the Brontes the power of imagination. To visit the home in which these three remarkable women novelists spent most of their lives would provide a fascinating insight into their lifestyle and restrictions of that time and thus enable us to have a better and deeper understanding of their novels. These novels have been read and reread by generations past and present.
In present times, Anita Desai's Clear Light Of Day (1980) set in the 1960s, is a story of one sister returning home to Delhi. She finds that their way of living was the same as before and old breaches too surfaced. The sense of time and place in this novel is strong. The narrative takes the reader from the present, back to 1947 and the upheaval of the partition of India. Yet, this is only a backdrop, the rendering of a family juxtaposed with that of a nation. The relationships between these family members are exquisitely examined, through daily preoccupations and long remembered squabbles
It is mainly of a family house and its particular history. Though the siblings have separated and having different histories and experiences, it is the same soil and the same way of life that nurtured and encouraged them to reach out to new experiences and new ways of life. The home coming showed that the old house contained all time, the past, present and future in it.
Michael Ondaatje's Anil's Ghost (2000) is about an expatriate returning to her homeland on a UN Human Rights mission and falling in love with the country despite outrage at the horrors of brutal guerrilla warfare and terrorism. There is a peripheral role and quest. Among its themes are, dramatization of the violence of civil war in the country and the depiction of its post colonial conditions. The story is woven around these themes but begins with coming home to Sri Lanka.
As long as humans have left their homes and returned and as long as storytelling has existed, there have been return home stories. This story line still runs through the ages. The ancient Indian epic, the Ramayana includes the return of Sita, who had been abducted by Ravana, King of Lanka and taken away to Lanka. There is the Greek Odysseus' coming back to his island home in Ithaca from the war of Troy. In the New Testament of the Bible, Jesus relates the story of the prodigal son.
Home has the magnetic pull for humans. Even though many people have gone abroad and settled well in foreign countries and now their progeny have also made it their home, the mere thought of coming or visiting their original home is a time for much excitement and happiness and I have found some groaning to go back at the end of their holiday. I was told, that when people living in Australia were returning to their roots or visiting Britain by ship, they all assembled on the deck as they were nearing the harbour, and Dover.
On spying the white cliffs of Dover, they burst into song, the well known song, White Cliffs of Dover and many had tears pouring down their faces. It's the same, with our Burgher community that left to Australia in the late 1950s and onwards for greener pastures, who couldn't wait to come back to their dear island. They wanted to catch something of their past happiness and wallow in a torrent of memories that always haunted them of their long ago homes and life, as it was then
Home is a place where a person lives, spends much of her time and feels very comfortable. While a house (or other residential dwelling) is often referred to as a home, and is home to many people, the concept of 'home' is broader than a physical dwelling. Home is often a place of refuge and safety, where worldly cares fade, with things and people you love become the focus. Home is central to one's life, primarily emotional, and partially physical. It is an environment offering affection and security.
In Maya Angelou's voice 'the ache for home lives in all of us, the safe place where we can go as we are and not be questioned.'