Public administration to be streamlined - W.D.J. Seneviratne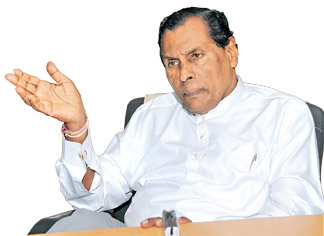 Public Administration and Home Affairs Minister, W.D.J. Seneviratne said that Western democracies talk about accountability and transparency with regard to Sri Lanka but these are openly violated by the West in Egypt, Libya and various other countries in the Middle East. The Minister in an interview with the Sunday Observer said there are so many instances in these countries where human rights are blatantly violated and torturing and indiscriminate killings are resorted to. The Minister queried as to why these open violations of human rights and killings of civilians by powerful countries were not taken up at a world forum.
The Minister said that Sri Lanka had to face the menace of terrorism over the past three decades. A large number of innocent civilians including school children and infants became victims of terrorism. However, when terrorism was eliminated, certain Western countries were demanding accountability and transparency with regard to what Sri Lanka did to defeat terrorism. Western democracies preach about human rights violations but they observe it in the breach in countries where they have a foothold.
Minister Seneviratne said that the country's development programs are under the purview of nearly one million public servants. My Ministry always maintains that it is the responsibility of the Ministry to see that goods are delivered to the people on time through the development drive. The performance of public servants will be judged by the benefits that will be reaped by the people. The purpose of appointing public servants is to ensure that problems are attended to and resolved expeditiously.
Q: It is alleged that red tape, bottlenecks,lethargy and arm chair administration are rampant in public administration. Do you agree with this notion?
A: There maybe instances where they can pinpoint a lethargic attitude of certain public officials, but taken as a whole the public service is nothing to grumble about. I must say that we are rectifying shortcomings that exist in the public service. We are trying to train public servants, upgrade their knowledge and make them more efficient. We also want to see that public servants maintain a good relationship with the public. To achieve these targets, there are certain measures that have been adopted by my Ministry. Training of public servants is done by SIDA in Colombo, but training is seldom carried out. We hope to train them region wise and have a full-fledged training centre in Badulla or Bandarawela, where they will be stationed and trained. President Mahinda Rajapaksa has also instructed to construct a building complex for this purpose in an area where public servants can be trained in a salubrious climate. These measures area to be adopted to see that public servants are brought in line with modern trends.
Q: Today public administration is also described as an engine of growth, because Government policies are implemented by the public service. What changes do you anticipate to galvanize public administration into a productive area?
A: That is very essential because public servants who are in charge of the implementation of the Government's development projects must be responsible and committed. We will take stern action if we find that public servants are not performing upto expectations. We have dismissed several officers who have been found guilty of corrupt practices and also those who are not aware of their responsibility in implementing development projects.
Q: Complaints are mounting that public servants specially in the periphery are indifferent towards the public, despite the decentralisation of administration. What are your comments?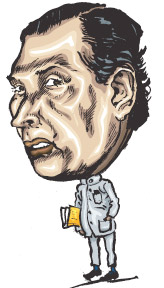 A: Public servants who work in rural areas should attend to the needs of the poor people. People in the rural areas are not educated, but they come to these officers with their problems, seeking solutions. Sometimes these problems do not come within their purview but those in the rural areas have no other alternative but to approach these public servants to find a solution. It is the duty of public servants to talk to them and give a hearing to their grievances and resolve them. Our instructions to them are "see that the tears shed by these people are wiped away". The purpose of appointing public servants to is to ensure that problems are resolved as expeditiously as possible.
Q: The output of public servants in the context of development seems to be pathetically low. Don't you think it is timely to introduce a "Work Measurement Formula" to boost output?
A: My ministry monitors the output of work done by public officers. We have set up certain monitoring committees to visit the Divisional Secretariat offices and inspect these offices and report back to the Ministry. At the same time, there is another investigation unit to deal with public complaints. The investigation unit will visit these offices and conduct investigations thereby we are trying to stem corruption and inefficiency in the public sector. We expect public servants to be alert and attentive to public needs.
Q: The Emergency has been withdrawn. But the Opposition alleges that the Prevention of Terrorism Act (PTA) has filled the gap. Though the PTA is a UNP creation, don't you think there is still a need to invoke it to counter terrorist activities?
A: I think the UNP's biggest complaint was against the enforcement of the Emergency that affects every aspect of the lives of the people. But the PTA is different, it only deals with those involved in terrorist activities. Although terrorism has been defeated, there may still be remnants. Meanwhile, LTTE combatants who surrendered are being detained. Since we eliminated a ruthless terrorist outfit, we must be prepared to prevent another uprising and see that the people under detention are kept until they are rehabilitated. Nearly 11,500 LTTE combatants who had surrendered have been rehabilitated. There is a small number still in custody, they can be produced before courts and it is left to the courts to decide whether they should be released or further detained. There is a view the mindset of a hardcore terrorist cannot be easily reformed that. The PTA will have to be in operation for sometime.
Q: A separatist agenda was promoted presumably due to adequate economic and social dividends not being passed on to the people in the North and the East. Can you explain how this situation could be met by the Government's brainchild-the development drive?
A: That would have been the case earlier. But now the Northern and Eastern areas are involved in the development drive. As far as infrastructure is concerned, they have been given top priority. Roads are being made,electricity and other requirements like water have been fairly distributed. Housing is being gradually sorted out and civil administration has been restored. District and Divisional Secretariat offices are being constructed and some of them have already been opened. These areas are provided with necessary facilities for education and health facilities.
Q: The main slogans made on Opposition platforms is wastage, mismanagement, and corruption and that offenders are going scot-free. Is there any truth in this and if so will the culprits be brought to book?
A: The Opposition is making these kind of allegations to mislead the public. Corruption is the easiest slogan for the Opposition to talk about. It is not in a position to sort out its own internal issues and cannot even given priority to problems faced by the people. The Opposition's cry to stem corruption has to be looked into, because corruption should be eradicated. Therefore, everybody must fight against corruption. Although the Opposition shouts, they have not been able to substantiate any act of corruption on the part of the Government so far.
Q: Accountability and transparency are invoked by Western democracies to attack the progressive path of this Government. Would you like to comment on this?
A: Western democracies talk about accountability and transparency with regard to our country only. But they are openly violated by them in countries like Egypt, Libya and various other countries in the Middle East. There are instances in those countries where human rights are blatantly observed in the breach and torturing and killing of people are taking place indiscriminately. But they are silent about these incidents. As far as we are concerned, Sri Lanka faced the menace of terrorism for 30 years. A large number of innocent people including school children and infants were killed. When terrorism has been wiped out, certain Western countries are demanding accountability and transparency with regard to how we overcame this menace. This is something these Western democracies preached against the third world countries whereas they are the very people who violate these principles in countries where they have a foothold.
Q: In the current human rights sessions in Geneva, Sri Lanka is targeted "to be punished" when Sri Lanka's record is crystal clear. What about the open violation of human rights and the killing of civilians by powerful countries that are not being taken up at world fora?
A: This is the question that we are also asking. But with regard to countries who are members of the United Nations Human Rights Commission, I think a large majority are in favour of Sri Lanka. They understand the situation that we faced at that time when terrorism existed in this country. The whole world rejoiced when terrorism was defeated and the country was liberated. People were jubilant and they celebrated the victory for several days. Now some Western countries are calling for accountability and transparency with regard to some of the activities that we did during the final phase of defeating terrorism. This is very unfair, as some of the Western countries also helped the LTTE at that time. That really made things difficult for us. But nevertheless we were able to get the support of other countries and were able to defeat terrorism. I got the opportunity to go to East Africa and meet certain leaders there. They were of the view that as a third world country, we have our sovereignty and that countries who try to interfere with our independence should not be supported. So I am sure countries like Russia, China, India and some other countries will stand up for us on the issue of human rights.
Q: All eyes are on the outcome of the Colombo Municipal Council (CMC) election. Is the UPFA strategy powerful enough to secure victory when Colombo is supposed to be a UNP stronghold?
A: Putting forward Milinda Moragoda as the mayoral candidate is a UPFA strategy. I don't think the UNP mayoral candidate can match Milinda Moragoda. We have been able to get all the sections together to work for the election and ensure victory. The UPFA mayoral candidate has spoken to the people and told them that the UPFA will bring positive changes in the CMC. It is high time the people opened their eyes now because the UNP was in control of the CMC for many years and nothing tangible came out of it. Now there is a visible change in the CMC and the Colombo city after the CMC was dissolved and when it was brought under a competent authority. At present, things in the city are systematic and orderly and judging from this the people will come to their own conclusions and decide whether a UPFA controlled CMC with the help of the Central Government will develop Colombo.
Q: The Government is committed to redesign and develop Colombo as a major commercial hub in the South Asian region. The UNP wants to take the Government to task for demolishing poor people's houses and disrupting their livelihoods. Your comments?
A: President Mahinda Rajapaksa and the Government have clearly said that the people whose houses are demolished will be provided with alternative housing. Even our mayoral candidate Milinda Moragoda has said the shanties will be demolished because the people have to be cleared from these shanties, but they will be given decent houses with sanitary facilities and a continuous water supply. The UNP will attempt to take undue advantage by making it a political issue. If the people whose houses are demolished are given alternative houses, they will be happy. However, the UNP will try to get undue political advantage from it, but the people will not accept such baseless allegations levelled by the UNP.
Q: Turning to your Ministry again, how would you respond to the argument that public administration can be made an instrument to increase productivity of the Government's development programs?
A: There are about one million public servants. The country's development work is in their charge.
They are involved in planning or in taking decisions and implementing them. Some are directly involved with the implementation. Likewise the public service is responsible in the implementation of the development work of the country.
Therefore public servants will have a major responsibility to fulfil. I believe my Ministry takes the view that it is our responsibility to see that goods are delivered to the people through development work.
The activities and performance of public servants will be judged from the results that will be reaped by the people.