CID to probe 'Were there other accomplices':
Triple killing – police grill suspect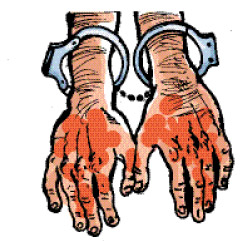 The main suspect allegedly involved in the triple killing of the former custodian Kapurala of Rankadu Paththini Devalaya at Kaduwela, his mistress and her brother almost 10 days ago was taken in for questioning when he surrendered to the Homagama police station on Friday. The Homagama police handed over the suspect to the Criminal Investigation Department (CID) for further investigations, police sources told the Sunday Observer.
The Criminal Investigation Department (CID) will probe whether the suspect committed the murder single-handedly or others too were involved in the murder.
According to sources, the suspect from Dolekade who surrendered to the police was also a co-accused in a murder case along with the Kapurala. The murder case is being heard before the High Court in Avissawella. The Kapurala who was granted bail by the courts was ordered to report to the Homagama police station every Sunday.
The main suspect of the triple murder is reportedly a service deserter and drug addict who had been involved in several crimes in the area. He had been in remand prison for over 18 months in a murder case for allegedly along with the Kapurala killing a man. He had an axe to grind with the Kapurala because he did not adequately compensate him while he was in the remand prison and moreover because the Kapurala did not help bail him from prison. Last week he called over at the Kapurala's home and demanded money. But the Kapurala reprimanded him and chased him away. The man went away threatening the Kapurala that he would return soon.
The victims of the triple murder are Anura Tilak Alwitigala (44), his mistress Mahayage Sudharshani(38) and her brother Mahayage Dilantha Ratnaweera (36). They were stabbed to death with a pointed weapon while they were asleep in their residence at Elias Mawatha Pannipitiya.
The suspect had surrendered to the Homagama police station knowing that there was no chance of escaping the police dragnet. Three police teams were detailed by HQI Homagama Chief Inspector Prasanna Ratnayake to arrest the suspect.