Bloom time for floriculturists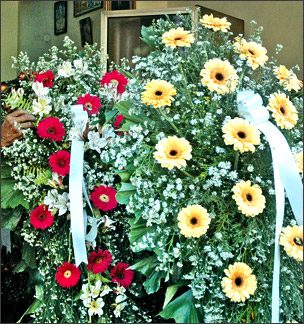 The innovative ideas which were engraved on a tombstone of a father by his son paint a clear picture of human qualities of a man. The last row of this emotional verse ended with the name of a flower `Orchid'. The son had compared the good qualities of his father to an orchid flower. He therefore placed a blue natural orchid flower on the tombstone to mark his father's first death anniversary.
When Sunday Observer visited florists at Deans Road, Maradana, a shop owner related this story and said majority customers who visit their shops prefer orchids than any other flower. It is not a secret that among flowers, the orchid is the most beautiful and the expensive one. Like other flowers, the orchid does not fade or wilt easily. Even florists too know the value of orchids compared to other flowers.
Like Malwana is famous for Rambutan and Bataleeya is for cashew, Deans Road in Colombo is a famous place for natural flowers. The florists at Deans Road supply cut flowers, wreaths, bouquets, garlands and flower baskets for weddings, funerals, birthday parties, social functions etc.
At present about eleven florists are engaged in a brisk flower selling business at Deans Road. Among them Jayaratna, Sunshine, Wijayagiri, and Trilakshika are some of the famous florists engaged in the flower selling business.
There are a few other major florists in the city of Colombo. Some of them are Huejay International, Lassana flora, Lak Mal Sela in Kollpitiya, Supreme flora in Ward Place, Supreme Orchid, Rosarian Florists in Maradana, Parker Traders and Sterling flowers.
Many of these florists have nurseries in Kandy, Nuwara Eliya and a few other places in the upcountry. The Huejay international who has floriculture gardens in the upcountry also export flowers. Parker Traders said they do not sell cut flowers. They import artificial flowers from China, while. Supreme flora said they have their own nurseries in Lindula and Ambewela.
The flower business at Deans Road has a history of nearly 70 years.
They supply flowers, flower baskets, bridal bouquets and takeaway boxes to locals as well as for foreign nationals for various functions.
In addition, some of these florists visit wedding houses and social functions to do hall and garden decorations, poruwa and table arrangements with various kinds of expensive flowers.
Manager, Jayaratne Florists at Deans Road Banuka Hettiaratchchi said in addition to their main shop at Maradana they have other shops at Kollupitiya, Kandy, Negombo, Ratnapura and Kalubowila.
Banuka said the shop was opened during 1960s and they purchase fresh flowers from regular suppliers in Nuwara Eliya, Diyatalawa and Bandarawela.
Our shop at Deans Road is open everyday at 5.30 am and we supply flower pots and bouquets for office functions and wreaths for funerals.
He said flowers are also provided to foreign Embassies in Sri Lanka and also for evening garden parties, conducted by Ambassadors and their families.
He said his shop provides only good quality natural flowers to customers. Some of them are orchids, anthuriums, roses, geberas, carnations, daisies, astromanis and cryshanthimums.
We normally do not sell artificial flowers and 90 per cent florists at Deans Road supply only natural flowers.
A florist, Nihal Fernando said wreaths are very expensive and some prices of wreaths are ranging from Rs. 1,000 to Rs. 25,000 or more.
He said some florists charge around Rs. 125,000 to 175,000 to make flower arrangements for weddings in Colombo hotels.
He said unlike those days even large number of foreigners visit their shops at Deans Road to purchase flowers and flower based items as they are mostly ten times cheaper than other places.
A florist at Deans Road Thilak Elpitivithanage said unlike earlier, a large number of persons are currently engaged in the flower selling business in the Greater Colombo area. "We open our shops early in the morning to have orders for wreaths and bouquets. We receive fresh flowers from our suppliers almost everyday,". A shop owner K.Y.G. Gunadasa said he started the flower supply business in 1993 and has plans to expand the business further, since there is an increasing demand for fresh flowers from customers almost everyday. He said flowers are mainly sold during the festive seasons in December, April, January and May. The owner of Jayasetha flora at Deans Road Wimalasiri Galappaththi said he has been in the business for the past five years and most people buy flowers for functions than for funerals.
He said there is a brisk business for flowers in the months of November and December. Customers buy large stocks of flowers for Christmas celebrations in December and also to commemorate the All Soul's Day on November 2 every year.
A florist at Deans Road, Gunadasa Peris said that there is a high demand for flowers based products including garlands, flower boxes, bridal bouquets, flower pots and flower baskets for functions only during festive seasons and therefore requested Government to help them to sell their flowers to foreign countries.
A businessman, R.P. Sumanadasa proposed the Sri Lanka Tourism to conduct flower exhibitions in Colombo, so that florists could sell flowers and also their products even to foreigners. A 45 year old Kithsiri who has been in the flower selling business at Deans Road for the past 14 years said floriculturists too have problems, but authorities have never spoken regarding their matters and want the Government to provide barelands outside Colombo (not in the up country) to people to grow flower plants as well as foliage plants. A florist, G.K. Lal of Dematagoda wants Municipal authorities and Pradeshiya Sabha officials to warn their employees to refrain from selling used wreaths to florists again . He said some cemetery workers are in the habit of removing used wreaths and flower bouquets from cemeteries at night and sell them back to florists.
He said an employee in a Colombo cemetery was recently taken into custody by Police following a complaint made by a relative of a deceased. They were later produced before courts for removing two wreaths, made out of fresh flowers and artificial flowers.