IT training @ KOENIG Solutions

Information Technology (IT) has become the need of the hour and there is a high demand for IT professionals all over the world. Getting IT solutions and IT services from the developing countries at a lower cost has become a fashion of the West. More than anything getting IT training at low cost has become a privilege.
It is not only low cost but quality training at a reasonable price is in very much demand over the globe. Having understood the need of IT training at an affordable price Koenig Solutions in New Delhi, India does an immense of a service to the mankind. Koenig Solutions one of India's largest IT training providers, offering a wide range of courses and recognised certification in software including MICROSOFT, CISCO, ORACLE, VMWARE, REDHAT,PROMETRIC, VUE, NOVELL, LPI, CWNP, EC-COUNCIL, ADOBE, CHECK-POINT etc Koenig is the world's No. 1 in offshore IT training and certification. Offshore training provides significant advantages such as world-class quality, affordable cost, small batch size and distraction-free environment. India is the world's largest exporter of IT-related services and has the second largest number of IT professionals in the world (after the US). Using this immense talent pool, Koenig is able to offer world-class IT training and certification at an affordable cost. Koenig Solutions is a brain child of Rohit Aggarwal, a software engineer who had the urge to start a domestic IT training company in 1993 as a young graduate, having realised the trends of the world.
The services were extended to the world in year 2000 after the dotcom bust. Dotcom bust triggered Koenig's shift from domestic to off-shore international training which has paid off $100,000 in 2002 to over $7 million in 2010 in revenue terms. Koenig is a single point source for 95 of the top 100 popular certifications with 150 full time trainers and the first company to make offshore training feasible. The company offers group and one-to-one personalised training for over 200 foreign students per month in their four training centres in Delhi, Dehra dun, Goa and Shimla. Koenig has a comparative advantage over other off-shore IT training due to three distinct factors.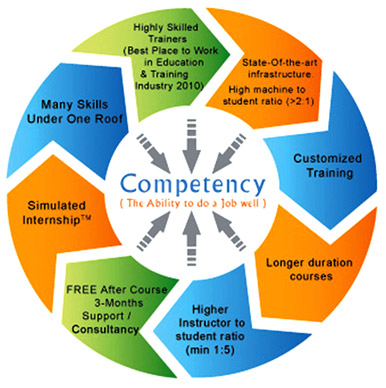 Firstly, the world class trainers with up - to date knowledge, teaching skills, right qualification is indeed a blessing for the organisation. All their trainers are long standing, extremely happy with work life balance. Trainers are chosen after a rigorous interview process which consist of personal, technical, general topic, specific topic, presentation and final round. The company is awarded the best place to work 2010 in education and training industry is an obvious evident of the capacity of Koenig Solutions.
Secondly, the excellent infrastructure of the company, fully fledged class rooms with latest equipments to get hands on experience is a greater advantage one could get. In addition, simulated internship is also provided to boost the confidence of the students. Having understood the quality service of Koenig many multi nationals including Microsoft, Oracle, Cisco, Linux, Java are sending their employees for short-term training and qualifications in IT systems.
Thirdly, the Koenig gives end to end service from air port pick up, accommodation, food, internal transport, airport drop etc. What Koenig offers to international students is a total package so that students need not worry or waste even a minute looking for cab services, accommodation, food etc. The IT training duration can be of personal requirements, running from one week to any duration to obtain an internationally accepted certificate to rise up in your career, to update knowledge or to learn from the scratch. Cost of IT packages too differs depending on different services requested from international students. However, the packages are offered at unbeatable price and it is evident from the student base that come to New Delhi every month from Europe, America, Australia, Africa and many Asian countries including Sri Lanka.
Undoubtedly Koenig ethos has led to the unique culture and great working environment of the organisation. Great working environment has led to retain the best trainers with greater productivity and higher capacity. The organisation believes its continuous success with 50% year on year growth is due to the best trainers. The Koenig ethos is not just on paper but a mere practice from top to bottom of the organisation. The CEO/Co-founder Rohit Aggarwal in true sense is a man with values and who sets an example to his followers whatever he does. His philosophy is to make the world a better place through education for all human beings irrespective of their caste, class, creed etc which will help to solve many problems that the universe is confronted with.
In order to achieve the ultimate vision Koenig is already stepped into many educational projects for under privileged students on CSR and these projects are obviously not to boost up the image of the company but to help the needy on education continuously. Koenig also sends their qualified and certified trainers to conduct training sessions outside on request.
In addition to this, it is also capable of organising visits by their Training Managers to conduct a training needs analysis of staff for identifying the right courses for any organisation or commercial enterprise.
Their clients include some of the most reputed organisations such as World Health Organisation, McKinsey, Siemens, Accenture Consulting, Toyota, United Nations, Nokia etc.