Chemical imports to be regulated
Sri Lanka will regulate the use of hazardous chemicals and monitor industries that use them to draw international investments into the chemical sector and to create industrial awareness,
"I am glad to record that my Ministry has commenced designing a Chemical Emergency First Responders' Plan. What is important is global compliance standards we will achieve once it is completed" said Minister of Industry and Commerce, Rishad Bathiudeen.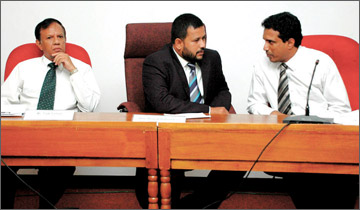 Bathiudeen was addressing the launch of the Chemical Awareness Session Importers and Exporters of 52 private and state sector organisations last week. More than 60 participants attended the sessions. The event cost around Rs. 1.5m and was funded by the Ministry.
The Chemical Awareness Session is a public-private partnership effort by the Ministry of Industry and Commerce in collaboration with the Dangerous Drugs Control Authority and the State Trading Corporation and is centred around the Chemical Weapons Convention (CWC) where Sri Lanka is a member since 1993.
The relevant national legislation is the Chemical Weapons Convention Act No. 58 of 2007.
Among the 52 participating institutions were Siddhalepa Exports, Nestle Lanka, MAS Research and Innovation, Unilever Sri Lanka, Cargills Agrifood, A. Baur and Co, Dipped Products, Link Natural Products, Ansell Lanka, Hemas Manufacturing, and Revlon Lanka. Among the state sector institutions were the State Pharmaceutical Corporation, Universities of Kelaniya and Ruhuna, the Tea Research Institute, and NARA. In 2009, Sri Lanka imported 219,820 metric tonnes of various chemicals to the country of which 491,768 tonnes were re-shipped (this number excludes oil and LP Gas imports which are also classified as 'chemicals').
Among the imported chemicals were extremely toxic and hazardous chemicals imported to be used as base chemicals in Sri Lankan industries. In 2010, 15461 kilograms of 43 types of toxic and hazardous chemicals were imported for Sri Lankan industries. These chemicals are known as Scheduled Chemicals but the private sector usually imports them without the Ministry of Industry and Commerce' recommendation or clearance. Among these chemicals are saxitoxin (used for medical research), triethenolemin and 'thyonyl chloride', which are used for plastic and PVC manufacturing but considered to be dangerous for non-industrial, individual use.
Announcing the Plan, Minister Bathiudeen said: "What is important about this plan is the global compliance standard we will achieve once it is completed. Without this plan, no international investor will want to enter Sri Lanka's chemical sector."
Stressing that there was no intention of a clampdown but aiming at better regulations, Minister Bathiudeen said: "My Ministry wishes to stress that the purpose of this legislation and our awareness program is not to impose any restrictions on import, export or use of any chemical but only to regulate and streamline the use of scheduled chemicals for legitimate purposes by maintaining a database by the National Authority appointed. This would facilitate greater transparency on the use of scheduled chemicals within the country."
Minister Bathiudeen said: "This special industry initiative comes at an important time when our industrial sector is playing a vital role in our economic resurgence. As you may be aware, the largest contribution to the July 2011 exports growth was from the industrial sector, led by a significant increase in exports of machinery and equipment.
Therefore, it is time we take steps to regulate various types of chemicals to reduce social and environmental damage.
My Ministry estimates that in 2010, damage valued at more than five million rupees took place due to lack of awareness on chemicals. A number of lives also were lost and when we assess compensation for these lost lives, the cost of damage is far higher."
Minister Bathiudeen said: "The Chemical Weapons Convention is an international treaty which seeks to eliminate this class of weapons in a verifiable manner. It primarily addresses national programs and indirectly the threat of chemical terrorism. The Convention is the common name for the convention on the prohibition of the development, production, stockpiling and use of chemical weapons and on their destruction. Sri Lanka has been a signatory to the Chemical Weapons Convention (CWC) since 1993 and relevant national legislation has been enforced on August 15, 2008 as Chemical Weapons Convention Act No. 58 of 2007. Under the Act, it is an offence to manufacture use or trade certain toxic chemicals listed in the Convention without the approval of the National Authority established for implementing the Convention in Sri Lanka.
Sri Lanka and many countries throughout the world have companies and businesses involving toxic chemicals in productions in industrial, agricultural, research, medical, pharmaceutical and other peaceful purposes. Due to the possibility of such chemicals being used to manufacture chemical weapons and also use them for narcotics, it is essential to monitor the activities of the industries dealing in such chemicals. The Convention requires Sri Lanka to make annual declarations about the import and use of certain chemicals."
"There is no request for clearance of these chemical imports.
There is no awareness of how these chemicals are distributed or stored" said Dr. Rohan P. Perera, Director, National Authority for the Implementation of Chemical Weapons Convention under the Ministry of Industry and Commerce. "This awareness program will show the steps needed to import, use and distribute these chemicals" Dr. Perera said.
"These chemicals have many industrial applications.
The main objective is to use them for industries and should not fall into the wrong hands. By this initiative, the Ministry will be aware of the uses of chemicals, Dr. Perera said.