Asian banks should play major role in region's economy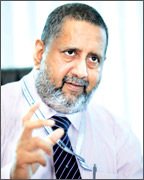 Asian banks are in a better position to face risk than many banks in the other regions, said HNB Managing Director/CEO and Asian Bankers' Association (ABA) Chairman, Rajendra Theagarajah.He was addressing the 28th ABA general meeting and Conference on Tuesday.
He said Asian banks are far better in meeting Basel II and III compliance than many banks in Europe which are still grappling with financial turmoil.
The ABA meeting and conference was hosted by Sri Lanka for the first time which is a landmark achievement for the banking industry in the region. The theme of this year's conference was "Asia Taking the Lead in the Global Economy: A Bankers' Perspective".
The objective of the conference was to explore and understand the responsibilities of Asia in the global economy and how Asia will play a leading role in the future, exchange ideas on challenges and opportunities for Asian banks and discuss international regulatory standards and the way forward.
Theagarajah said the conference is an ideal forum to promote policy advocacy as Asian banks have a major role to play in the global economy.
"HNB is honoured to host the conference as it gave HNB the opportunity to share with ABA members the renewed optimism and enthusiasm of Sri Lankans on the country's future", he said.
Set up in 1981, ABA is the largest grouping of banks and financial institutions in the Asia-Pacific region. Its membership comprises around 100 leading banks from 25 countries in the region.
ABA aims at providing a forum for advancing the cause of banks and financial institutions in the region and promote regional economic cooperation.
"The banking sector in Japan has done well despite the spate of natural catastrophes due to its compliance and adaptation of best practices. Banks need structural readiness to face risks", Theagarajah said.
HNB Deputy General Manager Marketing and Retail Banking, Chandula Abeywickrema said that the conference focused on how banks could help develop Asia by promoting a vibrant intra-regional trade and investment.
Experts from the banking sector and government shared their views on business models of Asian banks, their role in the global stage, relevance and applicability of Basel II and III , challenges and opportunities for banks in China and India , financial inclusion and risks faced by banks.
The conference was attended by representatives from banks in USA, Europe and Asia.