Musical show to felicitate Somasiri Medagedara
The Somasiri Medagedara Fan Foundation has organised a musical show and a felicitation ceremony to mark three decades of music career of Somasiri Medagedara in titled "Issara bendi pema sithwala suwandai- adaraneeya Medagedara" It will be held at the National Youth Centre, Maharagama today (October 9) at 7 pm. Youth Affairs and Skills Development Minister Dullas Allahapperuma will be the chief guest. Medagedara will also launch his latest CD "Pahan Vetak" containing 19 songs written by popular lyricists.
Medagedara will sing 25 of his old and new songs at the show which will be backed by the SLBC musical band led by Saman Wijesinghe. His contemporaries such as Chandralekha Perera, and Dhammika Karunaratne and popular singers such as Deepika Priyadharshani Peiris, Pradeepa Dharmadasa and Sulochana Sandamali will participate in the show. His eldest son Yasas Kantha Medagedara and daughter Yashoda Rasanjali Medagedara will also join in singing. The show is open to the public.
---
Nirvastra
Nihal Suranji's Nirvastra will be staged at the YMBA auditorium, Borella on October 14 at 10.30 am.
The cast includes Richard Manamudali, Deepani Silva, Nimal Chandrasiri, Rasika Hapuarachchi, Deepthi Weerasuriya, Samith Bodhipaksha and Geethi Dissanayake.
---
'Mr Bean' to perform at Franco Kids' Club evening
An Evening with 'Mr Bean' ( Prasad Galappatti ) organised for Members of the Franco Kids Club at Alliance Française de Colombo 11, Barnes Place, Colombo 7 will be held on October 15 from 4 to 5 .15 p.m.
There will also be two other talented young musicians Master Malin de Silva and Master Pranar Aswin who will entertain Kids/Children with their wonderful singing. Mr Bean was crowned as the Shadow Star by in a compertition organised by Swarnavahini.
Franco Kids Club Membership is free for kids/ children between the Ages of 6 to 15 years and a few more Memberships are available and please Telephone 2694162 / 2693467 for Application Forms. Also entrance is free for all their activities.
---
Romaya Ginigani - 2
Bandula Vithanage's Romaya Ginigani - 2 will be staged at the Ananda Samarakoon hall Sri Lanka Broadcasting Corporation, Colombo 7 on October 14 at 6.30 p.m.
The comedy is a transcreation of Ray Kurni's play 'Caught in the Net'.
The cast include Sampath Tennakoon, Ratna Lalani Jayakody, Bandula Vithanage, Ayesha Dissanayake, Upali Bandara, Thilini Priyanvada and Ishara Wickramasinghe.
---
Jazz en liberte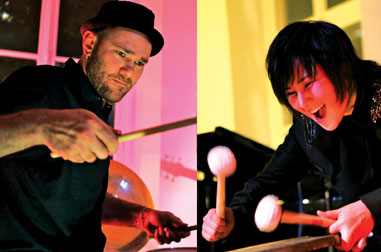 Jazz Liberté, a concert by Benzine (France), Soo Bin (South Korea) and Thriloka ( Sri Lanka ) will be held on October 12 at 7.30 p.m. at Park Street Mews,Colombo.
In perpetual motion, and constantly looking for new goals and new sounds, the Benzine group from France led by Franck Vaillant zigzags between trends: jazz, urban sounds, electronic pulses, world rhythms and Sci-Fi atmospheres.
For its third album, the band widened its spectrum welcoming Soo-Bin Park. "When we first met I've been immediately caught by her truly natural way of making music, both when she plays percussion or when she sings. She 'is' music, and I am particularly attracted to the 'punk'-side of her approach of the tradition" said Franck Vaillant.
The launch of their album "Magnetic Benzine" was heavily welcomed by the critics. Benzine and Soo-Bin are unanimously recognized by the specialized press and are widely broadcasted on national and international radios. In October, they will be on tour in South Korea, Laos, Sri Lanka and Maldives.
---
Hindi Rasanjali
Hindi Rasanjali, an evening of music, poetry and dance by the Hindi students of Indian Cultural Centre will be held on October 12 at 6.00 p.m. at the Indian Cultural Centre, 16/2, Gregory's Road, Colombo 07.
The students of the Indian Cultural Centre Colombo will put up plays in Hindi, sing Hindi songs, present speeches in Hindi and dance for Hindi songs showcasing their talents. Students from various age groups will be participating in the event.
---
Narthana Rekha
Danangi Fernando's third solo performance Narthana Rekha organised by Diri Daru Piyasa ( Special Children's Unit) of Miranda Hemalatha Kala Ashramaya will be held on October 16 at Bishop's College auditorium, Colombo.
---
Cora Abraham Art Classes showcase talents
The Cora Abraham Art Classes continuing 62 years of the vision of their founder, a pioneer in education-through-art and Freedom of Expression, will present the creative work of their 2011 students in age-groups on October 15 and 17 from 9 a.m. - 6 p.m at 50/6B Siripa Road, Colombo 5.
A visit to the exhibition will enable parents and visitors to see the gradual journey towards increasing confidence in the use of materials, tools and techniques and self confidence in the expression of ideas and experiences.
---
Sith Asapuva
Sith Asapuva , an exhibition of black and white photographs by Duleep Samarasinghe will be held from October 14-16 (9.00 a.m. to 6.00p.m.) at the Public Library auditorium, Colombo 7.