Rajaratnam: Longest prison term for insider trading
Raj Rajaratnam, the hedge fund billionaire, who allegedly channelled millions of dollars to the LTTE, was sentenced Thursday to 11 years in prison, at the conclusion of one of the largest insider trading cases heard in the US. It was the longest prison term ever for insider trading, according to the Justice Department, and was the culmination of a years-long federal probe of cheating in the stock market. Rajaratnam was arrested by FBI in 2009.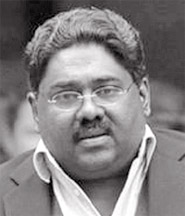 But it was also less than half of what the prosecution had sought against the man it called "a billion-dollar force of deception and corruption on Wall Street," foreign media reported.
The 54-year-old Rajaratnam, who headed Galleon Management,was convicted in May on 14 counts of conspiracy and securities fraud for illegally using inside information to trade in stocks such as Goldman Sachs, Google, Hilton and Intel. The trading generated profits or avoided losses of $72 million, the government estimated. The case pulled back the curtain on illicit trafficking in corporate secrets that involved people at the highest echelons of the financial world and gave hedge funds a competitive edge.
Rajaratnam's crimes "reflect a virus in our business culture that needs to be eradicated," U.S. District Judge Richard J. Holwell said at the sentencing in New York. Rajaratnam was ordered to forfeit $53.4 million and pay a fine of $10 million. Out on $100 million bail, he is scheduled to report for prison on Nov. 28. The Justice Department opposed allowing Rajaratnam to stay out of prison while he appeals, saying he might flee to his native Sri Lanka or to some other country.
Rajaratnam will appeal his conviction, Kathryn Holmes Johnson, a spokeswoman for his legal team, said by e-mail. According to the government, Rajaratnam gathered inside information about pending corporate deals and earnings announcements from an array of tipsters, including a Goldman Sachs board member, a senior partner at the consulting firm McKinsey & Co. and an insider at the Moody's credit rating agency. To pay for inside information, Rajaratnam wired money to offshore accounts in phony names, the government said. Rajaratnam "suffers from a constellation of serious and degenerative illnesses which require intensive ongoing medical attention and which even under the best of circumstances will almost certainly shorten his life considerably," defence lawyers has said in a court filing. In determining the sentence, Holwell cited Rajaratnam's need for a kidney transplant and his advanced diabetes.
The young Rajaratnam had a comfortable start to his life in Sri Lanka, where his father ran the Asian arm of the Singer sewing machine company. He was educated locally before studying engineering at Sussex University and moving to the US in 1981 to study for an MBA at Wharton. His financial career began with a short stint at Chase Manhattan, where he specialised in lending to technology companies. He was then hired by boutique investment bank Needham & Co, where he rose through the ranks to president in 1991.
It was at Needham – a technology specialist – that Galleon was born in 1992, first as Needham Emerging Growth Partners, before Rajaratnam took over the fund when he left to go it alone in 1996. Just before his arrest in October 2009, Forbes magazine ranked Raj Rajaratnam as one of America's 400 richest men and the 559th richest in the world. -MF