Fertiliser subsidy for all crops, a big boost:
More lands under the plough in N-E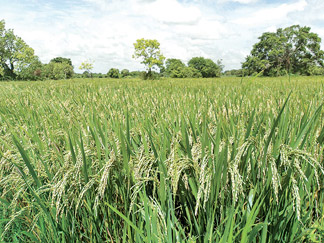 "Several programs were being implemented islandwide to increase agricultural productivity", said Agriculture Ministry Secretary K.E. Karunatileka in an interview with the Sunday Observer.
"Although the country's rice production is little over the actual need of the country, the import of other subsidiary food items such as green gram, cowpea, maize, undu , kurakkan and fruits cost billions of rupees annually. The government had since decided to produce them locally," he said.
Q: Although a large extent of lands have been cultivated in the North and the East recently still the country spends billions of foreign exchange to import subsidiary food items. Are there plans to arrest this situation?
A: As you said more than 12,000 ha of virgin land in the Eastern and Northern provinces have been re cultivated from 2009.
We had a good harvest of paddy and other crops. The country does not import rice at present and we have a annual surplus of rice production.
However, a small quantity of high quality rice such as Basmathi were being imported for tourist hotels. A program to cultivate high quality rice has also been launched to remedy this situation. The largest acreage of land in the country has been used for paddy cultivation.
Therefore, there is no other solution to improve the paddy production than increasing its productivity per acre.
Q: What were the steps taken by the government to increase the productivity of paddy and other subsidiary food crops?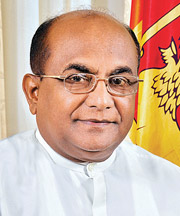 Minister Mahinda Yapa Abeywardena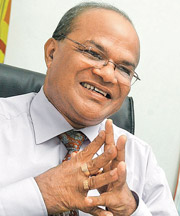 K.E. Karunatileka
Statement of profits - green gram cultivation
Third Agricultural Season - 2011
Cultivated land 7,599 ha
Seeds - cost Rs.24.2million
Other expenses Rs.50 million
Total production 6,137 mt
Total income Rs. 613.7million
Profit Rs. 539.5million
A: The paddy fertiliser subsidy is an investment which has increased the harvest.
Last year the government extended the fertiliser subsidy to all other crops including fruits, vegetables, coconut and minor export crops. This helped improve the harvest while the cultivators received a better income.
Q: There is an allegation that both traders and the farmers had misused the fertiliser subsidy.
A: Yes it has happened in many parts of the country. The Agriculture Ministry has an advanced field networks to work closely with the farmers.
The Ministry has launched another program to ensure the optimum use of fertiliser.
Fully equipped agriculture laboratories have been set up in every district and Gannoruwa, Mahailluppalema, Kilinochchi, Paranthan and Makandura which will recommend to farmers the particular fertiliser and the crop to suit the geographical conditions of the area.
Q: What is the progress of the Pannala Compost Fertiliser development project?
A: As I explained, it is not sufficient to apply only urea TST fertiliser and manganese are also needed to improve the soil. Since the latest research have revealed that compost fertiliser application is better than chemical fertiliser. The compost fertiliser development project at Pannala is geared to popularise compost fertiliser.
Q: A third agricultural season between Yala and Maha was introduced last year to increase the productivity in the agriculture sector. How far has it progressed?
A: There is a two and a half month gap between the traditional Yala and Maha agricultural seasons.
The intervening period could be used successfully to cultivate essential food items especially pulses such as green gram, cowpea, kurakkan,
maize and undu. The experiment which was conducted in Hambantota, Anuradhapura, Polonnaruwa, Ratnapura and the Mahaveli areas was successful.Around 7,599 ha were cultivated during the third agricultural season. 6,137 mt of green gram were produced.
Government provided assistance including free fertiliser and seeds worth of Rs. 6.2 million to farmers to launch the third season of cultivation of pulses.
The green gram produced during the third season was valued at Rs. 613.7 million. This program will be continued providing all the assistance to the cultivators.
Q: High quality seeds and planting materials are important for a productive cultivation. What is your ministry program to encourage such cultivations?
A: Seed villages program launched by the Ministry is a success. Villages in Dambulla and Matale had been selected to make seeds and planting materials - for potatoes, big union and vegetables.
Training and assistance were also provided to these villagers by the Ministry. The Government gives high priority to provide high quality seeds and planting materials to cultivators. All seed farms coming under the Ministry of Agriculture had been given adequate funds to improve and expand its activities.