Fish exports to hit Rs. 5b target by 2013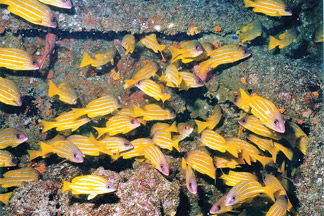 Shoals of fish in shipwrecks.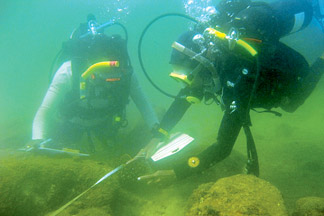 Divers in deep sea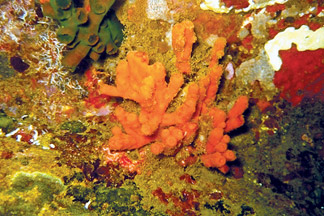 Coral peers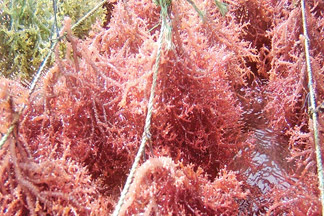 The Ministry of Fisheries is working out methods to double fish exports and to increase the income from Rs. 1020 million to Rs. 5,000 million by 2013. The Fisheries Ministry with a view to achieving this goal is looking into various viable moves.
Shipwrecks in our waters have been identified as ideal fish breeding spots. NARA divers have found nine shipwrecks including HMS Hermes WW II along Sri Lankan waters.
An officer attached to the Fisheries Ministry said that shipwrecks help to increase fish harvest considerably. "It is our duty to protect these ship wrecks," he said.
NARA is engaged in marine and fisheries research and developing the aquatic resources including conservation of sensitive ecosystems in Northern Province.
Gathering data, exploring biodiversity hot spots and the threats to them, prioritising sensitive areas for future conservation and supporting to create awareness of resource and its capacity to support development initiatives are also the other duties of NARA and will provide required information to formulate a sustainable fisheries management plan for the province.
NARA is conducting various programs in connection with the protection of ecosystems such as mangroves, coral reefs, sea grass beds, lagoons, sand dunes, Currents and tides and Environmental quality (water quality).
Preparation of maps on sensitive areas for future conservation with regard to fisheries and marine resources and to develop key indicators for monitoring the health and productivity of marine and fishery resources are also what NARA does.
It conducts rapid field assessment to remedy data gaps and improve the analysis of sensitive areas, refine maps prepared and improve the database, confirm the key indicators developed and other prescribed action to safeguard resources, preparation of awareness and capacity-building material, confirm sensitive and ecologically important areas and laying the groundwork for legal protection by declaring them as Marine Protected Areas or Fishery Reserves.
NARA divers have found the wreck of the world's first built aircraft carrier, HMS Hermes which was sunk in the Japanese bombing during the Second World War off the East coast of Sri Lanka.
NARA sources said that there is ample fish population in the wreck.
NARA sources said that HMS Hermes was the first purpose-built aircraft carrier in the world. She was built by Armstrong Whitworth, laid down on January 15, 1918 and launched on September 11, 1919. She was subsequently commissioned in July 1923. After a distinguished wartime career she was sunk on April 9, 1942.
According to Arjan Rajasooriya, biologist and diver of NARA, the wreck is also covered with large black corals.
It has become an attraction to new divers, but is a challenging and dangerous deep dive. "Not too long ago, one young businessman tragically lost his life on a Hermes dive," he said.
The wreck supports traditional fishermen and several families depending in fishing on this wreck. The wreck is damaged by looters of valuables such as armament of the vessel. A recent investigation by NARA revealed that there have been attempts to remove one of the cannons off this wreck.
The data stampings have been cleaned and local divers are reported to have sent information to foreign buyers who will contract the illegal salvage.
Fisheries and Aquatic Resources Development Minister, Rajitha Senaratne has directed the relevant authorities to protect this wreck from plunder.
NARA has taken moves to protect this wreck as fisheries, cultural/archaeological, historical and tourism resource which could remain of value for centuries to come. If plundered-salvaging will benefit a few for a short-term and the wreck will be lost to future generations of this country.
Dr. Hiran W. Jayewardene, founder Chairman of NARA said that the Hermes is a War Grave as several hundreds of her crew perished when it was sunk.
NARA has revived her 1980s program on wrecks, and is presently inventorying all wrecks for long-term management under the Marine Spatial Data Infrastructure (MSDI) established by the Agency. Extensive damage has already been caused due to salvaging over the years-some of it very recently.
A Ariyawansa, Director, NARA, National Hydrographic Office said that Bathymetric profiles are now being obtained of this wreck sites with special equipment as well as baseline records for periodic monitoring.
Scientists have begun the study of fish populations and their dynamics. It will give better guidelines for developing future management regimes.
Dharshan Jayawardana who maintains the popular website Dive Lanka, has volunteered to work with NARA, which celebrated its thirteenth anniversary this year, and has opened its doors to those interested in marine research and conservation, and the ocean and its protection as a national resource. Dr. Hiran Jayewardene further said that in the 1980s, then NARA Adviser, the late Rodney Jonklass who actually discovered the wrecks many years ago and was the first to dive.
He made several dives on the Hermes for NARA, and was joined by late Commander Cedric Martensteyn who joined the Sri Lankan Navy from NARA.
They were later joined by a group of Australians which included the ship,s photographer who had duly done his duty at the time of sinking and preserved the valuable photos of her last moments.
Fish harvest in the North and East increased to 13 percent as a result of the programs implemented by the Government to encourage fishermen in the North and East during the past few years . The National Aquatic Resources Research Development Agency (NARA) working closely with the Fisheries Ministry is playing a key role in protecting aquatic resources. The Fisheries Ministry has taken steps to increase fish harvest to achieve self-sufficiency in fish products.
Fishermen in the North and East contributed to 43 percent of the national fish harvest, fish harvest declined to eight percent.
The Ministry expressed confidence that fish harvest in the north and East could be increased to 23 percent before the end of this year.
The Government targets to increase the fish harvest in the North and East to 50 percent by 2013. A single person consumes approximately 13 kilos of fish per year. It is hoped that fish consumption per person would increase to 21 percent by 2013.
Meanwhile, to eradicate malnutrition in children, the Ministry has planned to increase fish harvest from 384,670 metric tons to 686,670 metric tons before the end of 2013.