More trains and improved rail tracks:
Increased budgetary allocation for public transport
The Government has increased the budgetary allocation to improve the public transport sector in the upcoming budget and the transport ministry will invest more money next year to import new trains, locomotives and powersets as well as to improve the rail tracks said Minister of Transport Kumara Welgama.
Minister Welgama was addressing train commuters at the Veyangoda railway station on Wednesday. He witnessed the addition of a new powerset to the Rambukkana-Colombo Fort office train launched a few months ago.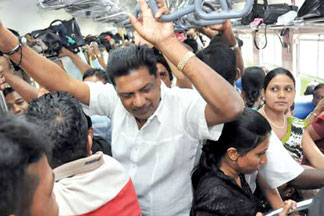 The new express train service has attracted a large number of commuters due to its timely arrival and availability of second class compartments. There were 80 seats in the second class compartments and the demand for second class seats increased surpassing the capacity. With the increasing demand and requests from commuters, the CGR decided to double the capacity of this office train. Initially, a single S-11 power set imported recently from India was deployed and from Wednesday another S-11 powerset was added and with this the number of compartments has increased to 12.
The Commercial Superintendent of CGR Sisira Kumara said that the second class seating capacity has been increased to 160. The train now stops at Veyangoda railway station as well. However, commuters who obtained second class season tickets paying double the price of third class tickets complain that the quality of service that they expect will not sustain unless second class compartments are strictly reserved only for second class ticket holders.
Minister Welgama visited all compartments and spoke to passengers and gave a hearing to their suggestions to improve the train service. He said that another power set will be added to the Mahawa-Colombo Fort express train as well. Responding to complaints of the commuters about train delays, Welgama said that the bottleneck at the Kelani bridge was the main reason for delays. The new bridge and third railway track between Dematagoda and Ragama will be connected after the completion of this bridge and these issues will then be under control.
Commuters thanked the minister for the significant improvement of the train services during the last couple of years. A number of trains, facilities as well as frequent strikes and other obstacles have all been sorted out. Although there are train delays, overall the situation has improved significantly, they said.
Meanwhile, CGR officials said that Expolanka and Rajadhani first class compartments added to the Colombo-Kandy intercity express train has been successful. All tickets have been reserved for the next three months and our effort to attract new passengers to the railway has been successful, Welgama said.