Yal Devi to ply in two years
The resumption of the Yal Devi train to the North does not mean restoration of mere connectivity, it is the restoration of normalcy and economic development in the North, after three decades of terrorism, said Indian High Commissioner in Sri Lanka Ashok K Kantha.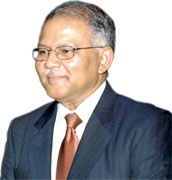 He was addressing a ceremony in Colombo to sign an agreement between the Sri Lanka Railway and Ircon International of India to reconstruct the Kankasanturai- Pallai railway track in the North.
The 55-Km-long railway track to be reconstructed within two years will cost $ 150 million. Funds are provided by the government of India as a concessional credit.
The government and people of India are ready to provide the fullest support to the government of Sri Lanka and its people at this historical juncture of the country's recovery after 30 year-long terrorism, Kantha said.
Indian companies are heavily engaged in the transport sector of Sri Lanka and Ircon International has secured several large scale railway track construction projects.
Indian power sets dominate the fleet of trains in the Sri Lankan Railway while Indian buses dominate the SLTB and private bus service.
Minister of Transport, Kumara Welgama said that Ircon has proved its credibility by successfully completing the Matara-Galle railway track reconstruction project.
Ircon will complete this project in two years and Yal Devi will be on the track in two years, he said.
Welgama said that the project was delayed for two years because the former secretary to the Ministry of Transport wanted the work to be handled by SL Railway.
Since we have to renovate and maintain existing railway tracks which have been neglected over long years we do not have the resources to construct new tracks.
Therefore, we decided to contract the project to Ircon, he said.