A timely bonanza for seasonal shoppers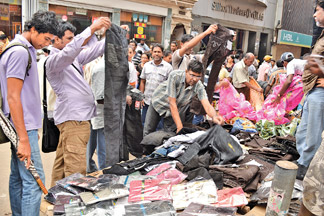 Christmas and New Year festive season is celebrated on a grand scale in Sri Lanka not only by Christians and Buddhists, but also by people of other religions. The beginning of a new year is the main reason for people to celebrate the festive season on a grand scale and the long school vacation is also another reason. Most people come to the city with their children from distant areas to buy clothes and toys.
Almost all streets in the city of Colombo, especially Malwatta Street is flooded with people who come to buy clothes and various other goods. The First and Second Cross Streets in the Pettah are also full of shoppers and even no enough room to walk freely. Thousands of people including foreigners were also seen in the Fort area during the past few days.
The festive atmosphere has spread from Colombo to the suburban areas of Borella, Maradana, Narahenpita, Nugegoda, Bambalapitiya, Wellawatta, Mt. Lavinia and Kollupitiya. A large number of people could be seen engaging in their last minute shopping.
Nugegoda, which is considered as a thickly populated town next to Colombo has become the hub of Christmas and New Year shoppers. People even complain that they cannot walk on the pavements due to wooden stalls that have been temporarily erected by pavement hawkers with the permission of Police only for the festive season.
The famous `Pamunuwa' at Maharagama which is very popular for cut pieces, clothes and ready made garments are also flooded with people who have come from all parts of the country. Over 1200 small and large textile shops are open at Pamunuwa and almost all the shops are crowded and people complain that there is not enough room even to select items.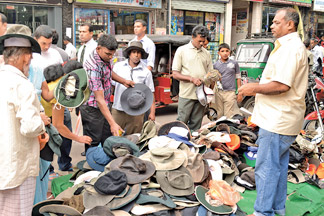 According to a shop owner, traders are coming to Pamunuwa even from the North to buy cut pieces.
A senior officer , attached to the Maharagama Police said some pavement hawkers at Pamunuwa are in the habit of selling items even on the Colombo-Avissawella railway track which is running in close proximity. He said this should be stopped forthwith for the benefit of both hawkers and buyers. When inquired, a pavement hawker said they know the time when trains pass and accordingly they do their usual business on the railway track.
Customers usually buy their goods not only from pavement hawkers, but also from large scale textile and ready made garment shops.
The Sunday Observer last week visited pavement hawkers in Colombo and textile shops at Town Hall, Bambalapitiya, Kollupitiya , Maradana, Mt. Lavinia and Wellawatta to see the development of their business activities during this festive season.
A resident of Kandy, D.A. Wickramanayaka said he started business on the pavement about 15 years ago and he sells clothes, textile and ready made garments.
He said unlike in the past , pavement hawkers and other traders in Colombo earn a large sum of money during this festive seasons due to a large number of customers coming even from Northern areas.
He said in addition, the school vacation and the year end vacation of Government and mercantile sector brings thousands of people to the city during this festive season. Wickramanayaka also thanked the Government and security forces for bringing the three decade old war to an end as it paved the way for Northern citizens to visit Colombo without any fear.
He said Pettah traders were also engaged in business without fear of bombs as in the past.
A pavement hawker, Sarath Chandra thanked local authorities to allow pavement hawkers to do business on pavements during this festive season.
He also thanked Police for the permission and the protection given for pavement hawkers to carry out business on pavements even for a few weeks. He urged Colombo Municipal authorities to allow pavement hawkers to keep their huts at least until the end of January since the Police have given the permission to do business on pavements only upto January 10.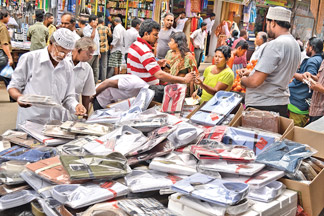 A 56 -year old pavement hawker, Raju Sinnadurai said he started the textile business on pavements twenty years ago and he has been engaged in the stock clearing business for the past ten years.
"Under the stock clearing system, we get ready made garment and other textiles from businessmen in Pettah and also from importers in the Main Street. Thereafter we sell them and settle their dues two days".
He said most items, especially ready made garments and clothing materials which are expensive in popular textile shops in Colombo and outstations are sold on pavements at cheap prices.
He said it was the main reason that majority customers prefer to buy things such as clothing materials, electrical goods and toys which are sold on pavements rather than buying them from big shops.
A resident of Ganemulla and a pavement hawker at Second Cross Street, 47 -year old Kamal Piyasena said he has been selling toy, socks and hats on the pavement for the past 20 years.
He said pavement business is excellent for them rather than doing business at the recent constructed shopping complex in the Pettah.
He proposed to the Colombo Municipal Council to allow pavement hawkers to carry out their business on pavements not only during the X'mas and New Year seasons, but also during the months of April and May, in view of the Sinhala and Hindu New Year in April and the Vesak festival in May.
A textile shop owner at Borella, Mark Fernando said he has a shop and three stalls in Borella, Maradana and at the First Cross Street.
"At least 70 percent locally produced ready made garments are sold by me and I propose authorities to stop importing ready made garments at least to a certain extent, since such imports badly affect to local industries,".
He said imported garments are sold at very low cost when compared to local garments that are little expensive.
A businessman in First Cross Street, Mohamed Rafik said he has been involved in pavement business for the past 15 years and unlike in the past, their daily income was gradually reducing due to lack of permanent places to carry out business activities.
He said although the newly constructed shopping complex at Bo-Tree junction, Pettah is a better place for business activities, it is difficult to have a good income for pavement hawkers rather than doing business individually.
He therefore, propose the authorities to allow pavement hawkers to carry out their daily business on pavements during evenings from 4.00 p.m. everyday.
A 43-year old pavement hawker, Piyasena Ranasinghe thanked Minister Basil Rajapaksa to encourage people to do self-employment activities inside vehicles and said the benefit of this system should be passed even to pavement hawkers, so that they also could do business at different places in the city rather than doing at the same place.
When inquired, a Police Constable who was on duty at Second Cross Street said pavement hawkers have been given the time until April 8 to do business on pavements and thereafter they will not be allowed to carry out any business on pavements under any circumstances.