Post-harvest wastage causes high prices:
Corrugated packaging for veggies - ideal solution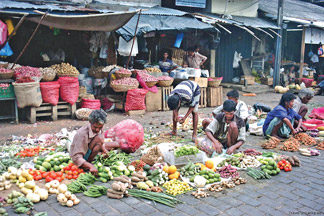 According to statistics that whirled around the world in 2009 about one billion earth dwellers suffer from hunger. Out of this nearly 642 million people are in the Asian and Pacific regions. The Food and Agriculture Organisation of the United Nations has estimated that considering the world food production there is enough food in the world to feed every earth dweller with at least 2720 kilo calories per person per day. The real problem lies mainly with the domestic level food insecurity and low ability of the people to purchase food. Isn't everyone complaining about the thundering market prices of the humble vegetable? But rarely anyone would seek for the real reason. Lately the focus was on transportation methods of vegetables and fruits. Government concern in trying to impose standards and regulations is a positive approach in protecting the rights of the consumer.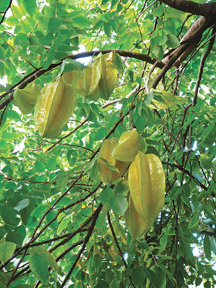 Though being a land of farmers and with a long standing agriculture history, Sri Lanka, strangely, lacks an evenly distributed diversity of vegetables and fruits in the market. There could be problems with the supply as well as the demand. What needs to be done right now is the question? This was much discussed at the recently held Global Forum for Sri Lankan Scientists organized by the Ministry of Technology and Research. Scientists don't give an alarming situation of food security in Sri Lanka. Yet the high prices of vegetables do create a problem and as identified waste of vegetables due to improper transportation causes much of the problem. It is a problem created due to the lack of practical approach to proper post harvest techniques.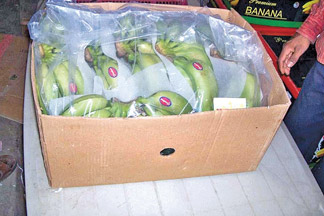 "In Sri Lanka we see a huge post harvest wastage in vegetables and fruits. Yet this is multi-disciplinary situation," said Dr. Shanthi Wilson, Additional Director (Research and Development) of the Industrial Technology Institute. "Techniques should focus on preventing loss due to physical injury and this includes several components," Dr. Wilson added. She further explained that minimizing vibration in transporting vehicles, using cushioning material for fruits and vegetables, using proper harvesting tools and harvesting at the correct time - all contribute to prevent the loss at the end that would burden the consumer. "Many of these vehicles that transport vegetables need to travel on bumpy roads and looking at the suspensions of these vehicles and if they are not working properly it would also lead to damaging the harvest. Thus it is essential to maintain these vehicles properly," she added.
The other aspect would be to look at using cushioning material while transporting," she added. According to Dr. Wilson the ITI is carrying out researches in collaboration with foreign universities to find out ways and means of proper transport of fruits and vegetables. It was highlighted that using corrugated packaging would be an ideal solution. This would suit the trade as these cardboard boxes can be discarded when the goods are transported to the retail market. The problem that transporters raised when the request came to use plastic crates was that the hindrance to their business venture on return. If the packaging is of bio degradable material it can be properly disposed without damaging the environment and giving space to the business as well.
Other than this, farmers' harvesting practices also matter in reducing post harvest loss, as she further explained. "As we don't have very large scale cultivations it will be difficult for the farmers to use hi tech harvesting machines but at least to an extent it should happen. This must be implemented even at the few large scale cultivations we have in Sri Lanka mainly owned by the private sector,"she added. The farmers should be knowledgeable in maturity indices of fruits and vegetables so as to harvest on correct time - not too raw or not too ripe. Though we are not a big country it does take few days for the vegetables and fruits to reach the consumer from the time of harvest. Thus it is essential to have a mechanism to keep the maturing process of fruits and vegetables inhibited until it reaches its destination. Edible wax that is used to cover these fruits and vegetables is a popular solution. In Sri Lanka what inhibits farmers and traders in this business from buying this is that so far we only had the imported wax that was quite expensive.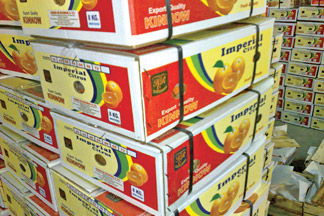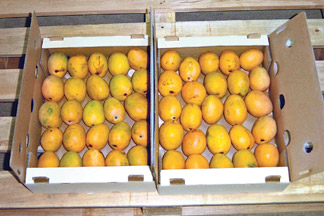 Industrial Technology Institute has invented a new variety of edible wax that could be used to preserve and protect fruits and vegetables more effectively to keep them fresh during the journey from the farm to the household. "These edible waxes are not harmful to the people. It only covers the fruit or the vegetable and keeps it in its original state until it reaches the consumer," Dr. Wilson explained. The product can also delay the natural process of fruit ripening. It can be applied after the harvest, prior to sending them to distribution centres. According to her post harvest diseases also play a major role to the loss. These diseases are aggravated with the physical loss to the goods. Anthracnose and stem end rot are major post harvest diseases that can be found mainly in tropical fruits. The new wax will minimise damage during transportation, preserve the products for long hours and prevent damage due to such micro-organisms. Another method would be to use biological agents as controls to such pathogens - one such bio tool is yeast. Though still under research it is found that Fungi can be used as a biological control. In Sri Lanka tests for all these aspects have given promising results to papaya, king coconut, pineapple and mangoes. The cold wax treatment is used especially in the export sector but this can be transferred to the local business sector too.
According to Dr. D.G. Jayawardane's presentation at the Global Forum for Sri Lankan Scientists, Sri Lanka is self sufficient in many products. For rice in 2010 the per capita consumption has been around 109 kilograms per year and that year per capita availability of rice has been 127 kilograms per year. We are 65% self sufficient in Kurakkan (bran) production. Cowpea it is 95% self sufficiency. With vegetables, Dr. Jayawardane explained that Sri Lanka has hardly any imports - we are on an average 60% self sufficient in vegetables. In fruits, though it depends on the season Sri Lanka imports only a portion which includes fruits that grow in temperate regions. In such a situation Sri Lanka shows a great potential to further grow in this field of market with more value added productions. With the local knowledge base Sri Lanka has come up with enough and more solutions to post harvest problems. The Vidatha centres established under the Ministry of Technology and Research have been a great resource for these scientists to transfer this knowledge to the farmers. At this moment it is essential to expand the receiving group and include all sectors involved in fruit and vegetable business at all levels from the farm to the household. This is so because at the the end it is the entire populace of the country will be benefited with good quality healthy food at a reasonable price.