No corruption charges against CEB and LECO after 2010:
Ninety-unit concessionery tariff will remain - Minister Champika Ranawaka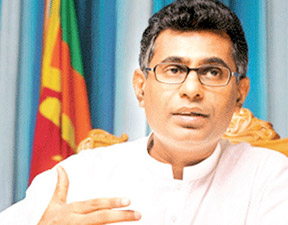 Power and Energy Minister Patali Champika Ranawaka in an interview with the Sunday Observer complained that the media is slow to pick on the positive developments in the CEB and LECO adding the great hype over an electricity tariff revision cutting down the low income 90 unit concession was just a opposition gimmick to rouse the masses. He said the CEB is now in a stable position to meet the current demand for energy in the country and action to streamline LECO operations resulted in the company recording Rs.1 billion profit for 2011.
Q: People complain that corruption is rampant in the CEB and the losses incurred due to inefficiency and corruption are ultimately passed onto the consumers?
A: We have changed the CEB and LECO to a great extent. But the reality is that we have to abide by the existing financial regulations, government policies and administrative policies. People allege that CEB is a corrupt body. But I must disagree with regard to some of the allegations.
Our main priority is to have 24/7 uninterrupted and reliable power supply. That way, we may sometimes compromise financial expectations. For example, if we can impose a power cut for one hour, the CEB could save millions, but the loss to the economy will be ten times. That is the reason why we don't allow the CEB to be driven by profits.
Second issue in the standard of our power supply. We have to maintain voltage and frequency level at an international standard. If we compromise on these issues, there will be profits.
Thirdly we have to protect low income groups. 78% of our consumers are under 90 unit consumption level. From 2008 to 2011 there was no increase in electricity tariff for this category of consumers.
No other service or good have been able to maintain a stable tariff like this. Everything else has gone up. According to a new research conducted by Colombo University with Public Utilities Commission on relative expenditure of families, in 2005 people has spent 7% of their earnings on fuel and electricity and now it has reduced to 4%. Their expenditure on telephone bill too is 4% and for entertainment they spend 5%.
We have now started operating gas turbines and a unit cost for CEB to generate power on gas turbines is Rs.50. But the Rs.3 per unit for the 90-unit category has not changed. These are the economic concerns we have to endure due to the people friendly policies of the Government. Government considers Power supply as a service, just like education and health.
Q: What is the situation with regard to LECO?
A: After I assumed duties as the Power and Energy Minister, we have been able to transform LECO into a financially viable institution. It incurred heavy losses in 2008, 2009 and part 2010. But it has been turned around and made into a profit making entity. There are no charges against LECO now. LECO profits exceeded Rs.1 billion this year.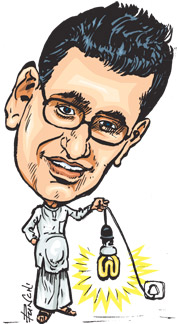 If we are allowed to perform independently as commercial entities CEB too could earn profits. We have proved that. CEB projected a loss for 2010 was Rs.40 billion. But we ended up recording a Rs.5 billion profit.
We managed to save Rs.30 billion due to Hydro power the balance Rs.15 billion save came due to efficient management, due to cost cutting and loss reduction.
Q: Will there be a revision in the electricity bill. There was a hue and cry that the units 90 concession is going to be cut down?
A: There is no such decision by the Government. The decrease to 30 units was a decision taken earlier. We have stopped implementing that decision. The low electricity tariff for less than 90 unit category will not be revised.
Q: Norochcholai Lak Vijaya Plant received wrath from the opposition. Why has it been closed for so many days after the commissioning?
A: We commissioned this plant in March 22. Thereafter due to various technical difficulties and other things, we were forced to close down this power station for 36 days.
Now it is running. After September 6, when the CEB Engineers took over, its availability and also the running hours took a set back but it has now gone up to a satisfactory level. We are taking advice from a Special Chinese team. It takes time to get back to normal operations when a new plant is commissioned, the manuals are in Chinese therefore we have to get Chinese help until our officers are fully conversant with the operations of the plant. The translations of the manuals are also taking place.
Q: There are allegations that this plant is substandard and running it at full capacity is simply unrealistic? These allegations fuelled up after a recent fire at the site?
A: The plant was a Government to Government agreement. Also CEB people had been waiting for nearly two decades for a firm power plant like this. This is a plant that can generate power on 24/7 basis. Our current requirement for power per day is about 30- 32 GW hours. This Norochcholai plant can generate 6.8 GW hours per day at its peak performance.
The plant is a new one, the consultants fully recommended us that this is a new plant. The CEB project team also recommended the quality and relevance of this plant to meet the growing demand. That was the reason why the contractors were paid the balance dues - on the basis of these recommendations.
We went by the recommendation of two bodies, the CEB project team and an Independent Consultancy team. It was not a decision of the minister or any other individual.
Q: You mean to say these allegations are baseless?
A: Delivery on the part of the Lak Vijaya at Norochcholai has been below expectations. That is true and we will not try to hide it. We expected the system control staff to plan 1560 GW hours for the year 2011. Unfortunately this plant, due to unforeseen problems, delivered about 1000 GW hours of energy. This deficit is expected to seriously affect the financial position of the CEB.
But most of the allegations by the opposition are baseless. The allegations that this is a substandard plant, etc. are not true. These baseless allegations will have a negative impact on the close relations between China and Sri Lanka. We were badly in need of a power plant that could guarantee firm energy. We have to rely on this for at least 20 years. Without Lak Vijaya, CEB would not have been in a position to supply power for entire 24 hours continuously. We have to run this power station 24 hours a day.
There is a defect liability period of two years for power plants like these. The contractors have to bear costs incurred due to defects and breakdowns during this period.
Due to various problems, technical, familiarization and others there may have been certain delays. We have to improve our efficiency gradually. When the first shipment of 65,000 mt of coal arrived, CEB staff took 34 days to unload that shipment. For the last shipment they took only nine days.
There are a number of power projects to be commissioned this year. How much do you expect this will add to the national grid?
Yes there are some renewable energy sources to be commissioned, such as wind and solar power. As far the renewable energy is concerned there is a serious drawback. If the wind is there the energy will be there, the same goes to the solar power but you cannot dispatch this energy when you need it. For example our peak consumption is from 6pm to 10pm but the sunlight is not there during this time.
But the large hydro projects like upper Kotmale, Lak Vijaya and Kerawalapitiya can generate power around the clock. That is why they are called firm energy. Other variable energy sources cannot be relied on for an uninterrupted power supply.
We had a bad experience during this year, because of the change in climatic conditions. We must build a power system to withstand that kind of variations. To meet this we have to plan another 2- 3 firm-energy power stations to supplement the base level and the medium level.
Q: What are the plans on the table to achieve this?
A: As far as firm energy is concerned we are going to get another 300 MW to the national grid from first quarter of the 2013 from Lak Vijaya followed by another 300MW in 2014.
Then next year we will be commissioning Upper Kotmale, it will generate 150 MW. We are planning to commission the Sampur coal power plant by 2016. We are confident that the CEB will be in a comfortable position by 2016. The uncertainty and mismatch between the demand and supply will be largely reduced by 2016.
Q: There was uncertainty, even this year, over interruptions to power supply due to dry weather. But fortunately the rains arrived and eased off the condition. When can we completely overcome this uncertainty?
There have been strange situations. But I can vouch for continuous supply of power even without proper rainfall. CEB's installed capacity now is bout 3000 MW. Our maximum peak demand is about 2000MW. We have adequate power.
But there had been strange situations. Sometimes the plants suddenly experience breakdowns. This happened twice this year.
In June five basic thermal machines broke down. I don't know if this was due to sabotage. On April 2, the day of the world cup finals, the same thing happened. I can't explain how these things happen.
In March 2004 a fire broke out. We had an investigation but there was no proof of wrong doing. These are unforeseen challenges. Some of the plants we have to shut down due to annual maintenance. For example in Laxapana there is a long overdue shut down. After 60 years of operation there has been no replacement or refurbishment done at this mega plant.
The Ministry has now given them the green light to go ahead with the refurbishments to replace the old parts with new ones at the Laxapana complex. It will be completed within the next two years in several phases. This will be very advantageous to the CEB since the installation of new machines will certainly improve its efficiency.
Once these projects are completed the CEB will be in a stable position. But, as it is, we can meet the current demand. We have the capacity to supply the demand even without any rain. The hydro power generation is about 12 per cent at the moment but we are still supplying energy.
Q: There is a second coal power plant that is to be built in Sampur with Indian assistance. A lot Environmental issues are connected to coal power generation. When will we be able to finally shut down coal power stations and rely on an advanced technology of power generation ?
A: As far as the Sampur station is concerned the feasibility is under way. The report will be available by the end of January. All the environmental problems will be addressed in that report.
As far as the global scenario is concerned in 1990 the UN and World Meteorological Association combined with United Nations Environmental Program formed a scientific body called Inter Panel Commission on Climate Change.
They have deeply studies the issue of climate change and global warming and arrived at a conclusion that global warming is real and it may cause serious damage to our planet.
In their second report released in 2007 they identified a carbon budget for the whole century. The limit is 2 degrees centigrade. If the mean temperature of this planet is going to increase by 2 degrees centigrade there is a 50 per cent probability for serious environmental calamity. It could sometimes mean the end of human race.
In addition they predict 25 of the all the species living on the planet will be threatened by this phenomena.
Thus the carbon budget was introduced. At the Durban conference it was concluded that this increase in temperature is going to happen in 2035 not in the next century. If we are not going to cut down on global emissions by 2015 we will be in trouble. So according to their calculations all the coal power plants should be shut down before 2013. If not we will face an unimaginable scale of environmental disaster. It could be cyclones, flash floods, droughts, earthquakes, tsunamis.
Q: Has there been any internal debate as to how Sri Lanka should prepare for this ?
There has been no such internal debate so far. We are a very low emitting country compared to others in the SAARC region. With the coal power plant in Puttlam, our current per capita emission level is about 700 kg per annum. With Lak Vijaya in Norochcholai and the proposed Sampur station this may be risen up to about 1000 kg. According to the carbon budget by the IPCC a single individual can emit 2100kg per annum. We are already a very low emitting country. But as far as India is concerned they have already reached their quota.
This figure for USA and Canada is about 25,000. Unfortunately Canada has backed out from the Kyoto protocol.
They are the worst polluters of the planet. There will be green sanctions imposed on these countries.
Sri lanka too is concerned about these issues and this is the reason why we have changed our energy policy from 'least cost' to a new one which will address the three key concerns 'economy, energy and environment' (EEE).
The decision to add 650 MW of wind power to our system till 2020 and another 300 MW of mini hydros was in line with the environment obligation. We have also formulated a long term generation plan keeping this in mind.