Chandimal to make Test debut
Uphill task for Lanka in Second Test vs South Africa:
DURBAN, Dec, 24. - Former Observer-Mobitel Schoolboy Cricketer of the Year Dinesh Chandimal is set to make his Test debut for Sri Lanka in the second Test against South Africa which is due to commence in Durban on the Boxing Day (26).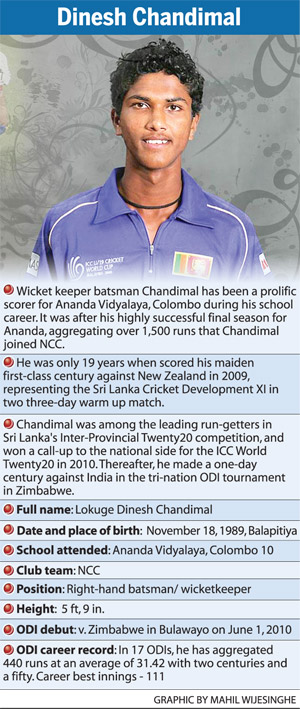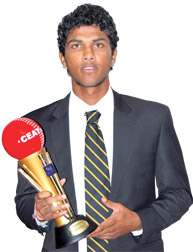 Chandimal, who celebrated his 22nd birthday last month, has already represented Sri Lanka in 17 One Day Internationals, aggregating 440 runs with an average of 31.42 with two centuries and a fifty, which included a majestic 'ton' at Lord's.
He will face a tough task in resurrecting the batting department which has badly let the team down in recent matches, including the first Test which Sri Lanka lost by an innings and 81 runs at Supersport Park, Centurion ten days ago.
"Chandimal is one of the brightest prospects we have got, He has scored a couple of hundreds in ODI cricket. It will be a good test and experience for him to play against such an opposition and in such conditions. Personally I feel good that we have been able to groom another young cricketer," Sri Lanka skipper Tillakaratne Dilshan said, hinting on a possible Test debut of Chandimal.
However, Chandimal will get an opportunity to represent at the highest level at a time that the national team is struggling to regain its lost pride. Hence, it will be a responsibility for Chandimal and far too asking. But Dilshan brushed them off, saying Chandimal's role in the middle-order will not cripple him. "It's not a case of him batting at No.3 and keeping wicket.
He will be batting at No.6 or seven and that's okay," Sri Lanka captain explained. Sri Lanka batsmen were all at sea in the first Test as South Africa had a smashing innings win in two and a half days as the visitors were shot out for180 and 150 in their respective innings. The batsmen were unable to contend with the pace and bounce of South African pitches and were stunned by the Supersport Park wicket. "In my entire career I have not played on a track like that," Dilshan said, indicating that conditions got the better of the batting group. But Dilshan is confident that Sri Lanka could paint a better picture in the second Test with high expectations on his top six batsmen, that include senior duo Mahela Jayawardene and Kumar Sangakkara, close to 10,000 Test runs each. "Our batting unit needs to stand out and get runs. We have experience, we need to apply. We are preparing extremely hard and we need to produce results. We are not asking for big totals, but 250 or 300 could be a good total if we are playing on green tops," he said as Sri Lanka made their final preparations on the eve of Christmas.
Having ended the first Test in little over two days, Sri Lanka team had a good ten-day break before the second Test. "We gave our players rest to recharge their batteries. We resumed training on Friday but were unable to have a net session because of wet weather. If we can have one net session tomorrow too, it will be good," Dilshan said.
The second Test provide the last chance for Sri Lanka to win a Test this year, after series losses to England, Australia and Pakistan and their only chance to save the current three-Test series. Injury-hit Sri Lanka called Dhammika Prasad and the uncapped Kanishka Alvitigala to strengthen their fast bowling department. Prasad is likely to find a place in the final X1, possibly at the expense of Thisara Perera. Prasad is poised to make good use of a pitch that would support quick bowlers. Apart from strengthening lower middle order batting, Chandimal will have an added responsibility in keeping wickets as regular stumper Kaushal Silva, who played in Sri Lanka's last three Tests without much success, may have to watch from the dressing room. Meanwhile, South Africa is roaring to add salt to Sri Lanka's wounds and secure the second Test to take a winning 2-0 in the three-match series.
"After a very disappointing time at the World Cup, a lot of criticism around and the lack of confidence, just to be able to build and strengthen up the squad is crucial," South African captain GreameSmith said. "There's stability around the team. You could feel a much more settled nature in the squad in the first Test against Sri Lanka and some confidence shown in players. It's good to see the players have taken that and performed," he added.
The last time South Africa won a Test at Kingsmead was in 2008, against the West Indies. Since then, they have lost to Australia, England and India. "It's been extremely disappointing the way we have played at Kingsmead. I want to turn that around. I want to perform well here and I think everybody in the team feels the same way," he said. "Our goal is to keep them Sri Lanka on the back foot as long as possible and not allow them to find that rhythm and freedom with which they like to play," Smith said.