2012 economic prospects positive:
SL will achieve 8 pc growth target - CB Governor
Despite the negative expectations of the recovery of the global economy in 2012, Sri Lanka is confident of achieving an eight percent growth target Central Bank Governor, Ajith Nivard Cabraal said.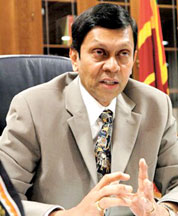 "We are optimistic and we will explain our position and on what stance we forecast our economic growth targets in the Road Map: Monetary and Financial Sector Policies for 2012 will be released on January 3", he said.
However, the negative predictions on global economic recovery continue and economists say that growth forecasts of Sri Lanka will have to be downgraded. Professor of the London School of Economics, Razeen Sally said in Colombo last week that Sri Lanka should be prepared for a slow external environment with stimulus by deficit spending which has failed in advanced economies. He also said that China and India are losing momentum.
"Many of the policy interventions in the wake of the crisis (2007 banking panic) have made matters worse,". Fiscal stimulus packages have by and large failed, huge amounts - hundreds of billions of dollars or Euros - have been spent by central banks indulging in rather questionable policy mainly buying government bonds in what is called quantitative easing. Of course in addition to this, there had been huge financial sector bailouts," he told a seminar held in Colombo.
Meanwhile, FITCH Ratings cut emerging Asia's growth forecast of 2012 to 6.8 percent from 7.4 percent predicted in June 2011. FITCH said that the downgrade reflects both deterioration in outlook for the world economy and the lagged impacts of policy tightening in some countries including China and India.
Another stock brokering company DNH Financial said that the 8.4 percent GDP growth rate recorded in Q3 of 2011 is the world's fourth best. It has also pointed out that higher growth of the Sri Lankan economy remains consistent with 8.2 percent in Q2 and 7.9 percent in Q1.