Expo Aviation goes for $2.8m aircraft
Expo Aviation will buy another aircraft from the United States at a cost of US$ 2.8 million to boost air passenger transportation to the North, said In-flights and Passenger Services Director Expo Aviation, Seraj Mohamed. Expo Aviation, a subsidiary of Expolanka Plc is the only domestic scheduled flight operator in Sri Lanka. Mohamed said that the demand for domestic air transportation has increased with the influx of tourists.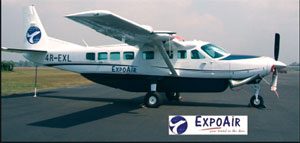 ExpoAir which resumed flights to the North on February 1 currently operates two flights a day to Jaffna .
The number of tourist arrivals to the North, which has a religious and archaeologically rich location has increased tremendously with the lifting of all travel restrictions for local and foreign visitors, with accommodation in hotels and improvement in transportation.
Tourists arrivals in January recorded a 15 percent growth compared to the corresponding month last year according to a spokesman for Sri Lanka Tourism. The number of tourists is expected to reach around one million according to travel and tourism experts.
Expo Aviation has been in operation since 1997 and it is the only domestic airline to continue operations from Colombo to Jaffna during the conflict. Mohamed said that ExpoAir flights are patronised mainly by the business community and added that locals account for over 60 percent of the passengers.
"ExpoAir provides value for money service to travellers through a hassle-free and quick journey to Jaffna in less than one-and-a half hours," Mohamed said.
The new Cessna Grand Caravan 12-seater aircraft comprises comfortable seats, individual reading lights, air-vent and a drop-down monitor which screens movies during the flight.
He said ExpoAir ensures a comfortable and safe tour with a professional crew trained overseas. ExpoAir flights take off from the Ratmalana Airport at 7:00 hours and 16:15 hours and returns from Jaffna at 8:45 hours and 16:45 hours.
Since 1997, ExpoAir has built a vibrant link with domestic air passengers providing quality service while adhering to safety standards.
ExpoAir commenced scheduled daily passenger flights to Jaffna after the signing of the peace pact, with the first flight to Jaffna taking off on June 3, 2002.
The company operated flights even when terrorism was at its peak.
The Expo Pavilions of the Expolanka Group in Jaffna provides a refreshing holiday experience to the adventurous traveller. Expo Pavilion – Margosa is about 10kms from the city and it is an oasis of tranquillity in Jaffna.
The beautifully decorated 19th century colonial ancestral manor built according to traditional architecture, which reflects a typical Dravidian Aristocratic residence stands majestically on a well landscaped garden of one acre of land.
Expolanka has been in operation since 1978 in Colombo. The company has a workforce of 3,000 employees in over 10 countries in Asia, Africa and the Middle East
The company posted Rs. 668 million PAT in the first half of 2011-2012.