Crackdown on bribery and corruption intensifies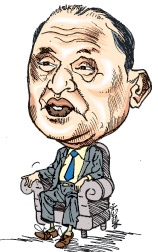 The Commission to Investigate Allegations on Bribery or Corruption since its appointment in May 15, 2011 has arrested 48 persons, the highest number of arrests since its inception in 1994, in its effort to crack down on bribery and corruption in Sri Lanka, Dr. Jayantha Wickremaratne, one of the Commissioners in the Bribery Commission told the Sunday Observer.
Dr. Wickremaratne said their investigation officers had arrested 11 persons from January to February 15, this year taking the total number of arrests to 59 with regard to bribery cases.
"In none of these years have we arrested so many people.
For example, in 2007, the earlier Commission had arrested only 32 people. For the past six months alone, we arrested 48 persons", he said.
He said that the Commission had made all these arrests having cleared a backlog of 2,700 complaints as the Commission remained non functional after the mandate of the earlier Commission expired in March 2010.
"In the future we would focus more on areas such as BOI projects as the possibilities are very high for acts of bribery and corruption which would lead to even retard the development process in the country. What we need is the assistance of people by way of information, telephone calls or complaints", he said.
He said of the 48 arrested in bribery cases, the highest number of 14 persons were from the Police Department while the second highest were reported from Divisional Secretariats with the arrest of seven Grama Sevakas.
He said the Commission is expanding its logistics, human resources and training capacity to expedite the process of conducting investigations on bribery or corruption.
He said people can inform the Commission about acts of bribery or corruption through the hotline 1954 for the commission to take action.