Market experts commend EPF returns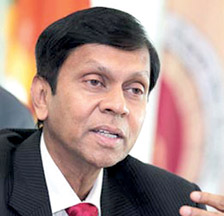 The Employees Provident Fund (EPF) managed by the Central Bank yielded a return of 11.5 percent last year which had been commended by market experts.
Financial experts said that 11.5 percent is a reasonable rate of return by the Fund.
Over 90 percent of the EPF is invested in Government Securities which produced a good yield last year and the previous year.
Central Bank Governor Ajith Nivard Cabraal said that compared to other funds, the EPF offered the highest return last year which shows that Fund Managers had diligently pursued their investments and hence received a higher return.
Veritè Research Executive Director Dr. Nishan de Mel said that the 11.5 percent return is a reasonable rate of return and added that EFP funds invested in Government Securities produced a yield higher than the market return on Government Securities in 2010.
The EPF managed by the state made large capital gains by investing in stocks with the share of equity in the Rs. 900 billion fund rising to 5.0 percent from 1.3 percent last year. Sri Lanka's capital market professionals have called for a higher level of the fund to be invested in stocks giving an opportunity for workers to take part in equity appreciation.
LF