Inflation at record low:
Economic growth at 8%:
Economy stable despite world fuel price hike
The prime objective of imposing economic sanctions on a country is to economically freeze the nation and apply pressure so that they agree to internationally accepted terms and conditions.
This international move has sometimes worked, but there have been instances in world history that it had backfired, imposing severe restrictions on other nations and not the country that was targeted.
Many global analysts say that this has happened with regard to Iran as it is not Iran, but other countries that have to face the consequences of the oil export embargo which has resulted in soaring global oil prices. If one analyses this scenario, it is evident that the crude oil prices which were stable and manageable earlier had increased tremendously, forcing all countries to increase fuel prices.
Most countries decided to place this increased oil price burden on the public and let it rest there.
However, the Government of Sri Lanka, while being compelled to increase oil prices, decided to provide subsidies in a bid to cushion many sectors from this impact on the economy. For fishermen, private bus operators and many other sectors including three-wheeler operators, a subsidy system was introduced so that the increased oil prices would not have a negative impact on the economy.
The Government was compelled to increase the price of fuel due to the difficulty in shouldering the massive economic weight imposed by the rise in world oil prices, a decision the Government was forced to take against its will, President Mahinda Rajapaksa said. "The Government has never imposed hardships on the people willingly," he said.
However, the Opposition, in a bid to bring disrepute on the Government, had launched a series of programs to provoke the people saying that the price increase for goods and services was too high. However, the reality is that Sri Lanka's inflation is the lowest in history and the revised prices would not have an impact on inflation. The fuel price hike was not exclusive to Sri Lanka, but happened everywhere.
No big fuel bill
Central Bank Governor Ajith Nivard Cabraal said that when Ranil Wickremesinghe was in charge of the economy, inflation was at 26 percent and the economic growth rate was six percent. "Today, due to prudent economic management, inflation is at a single digit level (3.8 percent) and the economic growth rate at over eight percent." The recent price increase has been made at a time when inflation, in January 2012, was at 3.8 percent, one of the lowest levels in recent history.
"Therefore, it is clear that the fuel price hike will not be unaffordable to the people and this increase will not be as critical as it is made out to be by the Opposition," he said.
He said an average customer, who had a monthly electricity bill of around Rs. 291, would now have to pay an additional Rs. 100, while a household which had a bill of around Rs. 550 would now have to pay around Rs. 760. "On average, each consumer would have to pay around Rs. 12 to 19 per day under the new tariff system," Cabraal said.
"Even with the recent fuel price adjustments, the price of petrol and diesel in Sri Lanka still remains lower than that of Singapore, Australia, England, Germany, France, Spain and Italy" he said .
"A car consuming petrol, travelling to Colombo and back each day (around 18 km), with the revision of fuel prices, would only have to pay an additional Rs. 43.60 while the additional cost for a diesel vehicle is Rs.111.60 per day" he said.
He said prices of some essential goods, such as red rice have drastically come down from Rs. 72.96 per kilo in January 2010 to Rs. 55 and samba from Rs. 88 to Rs.68. (per kilo)
In addition, a kilo of dhal has come down from Rs. 135 to Rs. 95 and onions from Rs. 137 to Rs. 75 during the same period.
Sri Lanka has now moved to middle income nation level and is predicted to be among the top four economies in the world. Per capita income is expected to reach US $ 4,000 in three years from US$ 981 in 2003 and the country is set to become the Wonder of Asia soon creating new opportunities to the public as well. People would soon enjoy better economic conditions.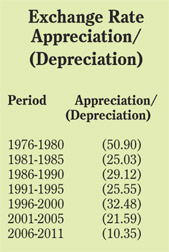 An increasing number of vacancy advertisements are published in newspapers, an indication that the unemployment rate has dropped. Figures show that the country's unemployment has fallen to 4.3 percent.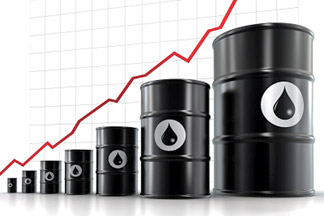 Rising oil prices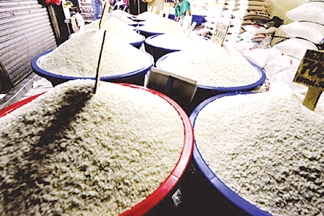 The prices of rice have come down
In addition, the use of mobile phones expanded rapidly in 2011. There were about 18 million mobile phones and more than 22 million total telephone connections in Sri Lanka by end-2011.
The number of new apartment buildings and individual housing is increasing and selling fast, an increasing number of household appliances are being sold while supermarket chains are expanding rapidly, an indicator of the people's buying power.
An increasing number of people send their children abroad for studies while an increasing number of people go abroad on holiday. During long weekends, hotels are full to capacity. The number of banking outlets is increasing sharply and reached 6,079 by end-December 2011. Due to the provision of electricity and petroleum products below market rates, the Ceylon Petroleum Corporation (CPC) and Ceylon Electricity Board (CEB) suffered serious losses. Both diesel (Rs. 112) and kerosene (Rs. 106) processing price was over the selling price (Rs. 84 and Rs. 71 respectively). The CPC sold it below Rs. 100 for many years. Dut to this, the CPC suffered a loss of Rs. 81 billion last year.
"A fuel hike should have been imposed from last August to minimise the huge losses sustained by the Ceylon Petroleum Corporation, but it was not implemented," he disclosed.
Though the CEB made profits recently, it could not maintain this trend, resulting in the institution also suffering losses of Rs. 16 billion. The CEB power generation cost per unit was around Rs. 15.31 and the selling price was Rs. 13.39.
Due to this, both institutions needed a financial injection from the State as well as the public to stop them from collapsing and from being privatised due to their losses. Previous governments had deliberately let some of the State institutions decay and they were privatised causing immense burdens on the public.
The Government, while providing relief for these institutions, also spent heavily on infrastructure and on subsidies which includes fertiliser subsidies, Samurdhi and free health and education.
Kerosene subsidy
Following the decision taken by the Government to provide each household without electricity with a kerosene subsidy of Rs. 200, nearly 500,000 families including those in the plantations have become beneficiaries.
Head of the Samurdhi Commissioner General's Department Chandra Wickremasinghe said that the program to provide the kerosene subsidy to 330 Divisional Secretariat areas in 25 districts was launched islandwide.
The Government will spend an additional sum of nearly Rs. 80 million for this subsidy. It will be similar to the additional expenditure the Government will have to bear as a result of the fuel price hike.
Under the guidance of President Mahinda Rajapaksa, Economic Development Minister Basil Rajapaksa will direct the provision of the kerosene subsidy under the Department of the Commissioner General of Samurdhi through the Divisional Secretariats to all households without electricity, from February 15.
Not only Samurdhi beneficiaries, but occupants of houses with no electricity are also entitled to this subsidy. Upon producing the Grama Sevaka's recommendation, they may obtain the ration cards issued by the Samurdhi Development Officer from the multi-purpose cooperative of the area or any sales agent approved by the Divisional Secretary.
Billions of rupees are being spent on infrastructure development.
External sector improves
Meanwhile, the external sector remained buoyant in 2011, with expanding external trade, growing services inflows and workers' remittances and higher long-term inflows of direct investments and inflows to the Government amidst the challenging external environment.
Earnings from exports recorded an increase of 24.3 percent to US $ 906 million in December 2011 compared to that of December 2010. The expenditure on imports, although increasing by 33.7 percent to US $ 1,910 million in December 2011, decelerated from a year-on-year increase of 78 percent reported for November 2011.
The expenditure on imports was driven by continuing demand for investment and intermediate goods. Government infrastructure projects, financed mainly by foreign loans, also raised the demand for investment goods.
The largest contribution to export earnings in December 2011 came from industrial exports followed by agricultural exports. Industrial exports increased by 28.9 percent to US $ 703 million in December 2011 compared to the same month of 2010.
Among industrial exports, textiles and garments remained the major contributor and grew by 25.2 percent to US $ 384 million followed by rubber products, food, beverages and tobacco and machinery and equipment.
Agricultural exports grew by 10.3 percent, year-on-year, in December 2011, mainly driven by tea and coconut exports. Earnings from tea exports grew by 10.5 percent and coconut exports recorded an impressive 97 percent growth in December 2011.
Rubber exports declined as the demand for rubber from domestic industries continued to remain elevated.