Variety

Art of missing pieces
The sky is the limit to any talented artist with a creative mind and a broad sense of imagination ... Some of the paintings and sculptures that are created by them are indeed awesome. There are artists who have the ability not only to captivate the onlooker but also portray a powerful message to them and even keep them analyzing the creations.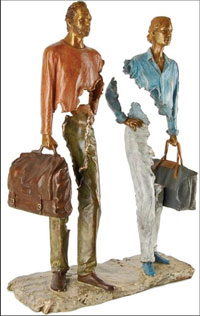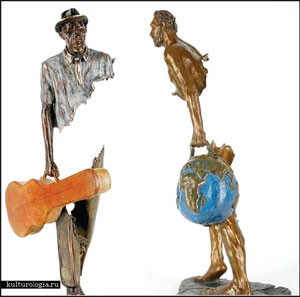 Featured here are a few of the awe inspiring creations of an artist who has managed to leave an indelible imprint in the minds of those who have the fortune to view his great creations .
Bruno Catalano is a French artist born in southern France in 1960. As a youth he had admired art but it had been only when he was 30 that he had tried his hand at sculpting.
He is self taught and has come a long way in making a name for himself with his remarkable talent.Having initially sculpted in clay he now uses bronze to give life to his visions ; more than a hundred of his trademark travellers have come alive under his capable hands.
Catalano's bronze sculptures have one thing in common;they have blank spaces that make you wonder where the missing pieces are.
Where there should have been a body, a shirt or an arm there is nothing. Regardless of whether one calls the series by its original name, "The Travelers" ("Les Voyageurs" in French), or as sometimes suggested, 'In Search of Missing Pieces, the viewer always has to fill in the blanks. Sometimes this too is not necessary as the picturesque background landscape helps to do so ,as you may notice in some of the sculptures pictured here .
The sculptures with their missing pieces have the power to grip the viewer and leave him with a seemingly endless string of questions.One cannot help but wonder how the artist has succeeded in creating such forceful figures, virtually sculpting around air.
The moment you see the sculptures you may start to wonder how he has managed to keep the figures in tact when they seem so disjointed. "How come they don't fall off?" will surely be your first question.
When you start examining them very closely however, you will notice that the apparently disjointed parts are connected at some point or the other. He has very cleverly concealed the unifying element that it will take you a while to detect it.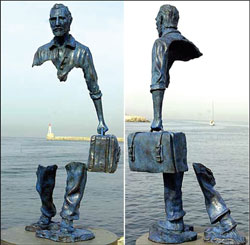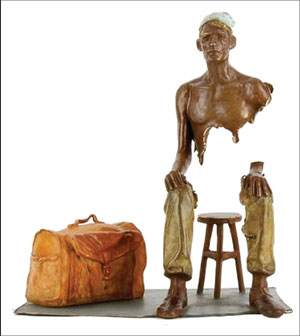 The people or the "travelers' he has sculpted carry some item such as a bag,suitcase or guitar case in the hand and you may be surprised to learn that it is the unifying element of all sculptures;the torso or what is left of it is connected by this item to one leg . The other leg is sculpted separately and placed next to it and as it has been said by some experts in the field it "suddenly seems as if the air is sculpted too".
He's had numerous exhibitions in France, the United States, England and China.
But what's behind his desire to leave out parts and to portray people travelling? Here's what one of his galleries has to say: '[Bruno Catalano's] works reveal his desire to capture the viewer's attention while stamping his unique mark on the subject. These astonishing works, with their dashed bodies and the determined lack of volume, invite the viewer to mentally reconstitute its limits.
"Through his statuary, he re-enacts the adventure of the human species, always between two riverbanks, repelling all borders."
What do you think of all these wonderful creations?Aren't they simply amazing?You may not be as talented as Bruno Catalano but there may be some inherent talent in you that you need to identify and develop. Most people who have achieved fame did not get there overnight... Some had to face many challenges and overcome numerous hurdles to reach their goals. So, if you are talented in some field do not hesitate to blossom out in that area overcoming all barriers. Be inspired by the talented people who have reached great heights and make your own niche in the world .